If you're looking for some other clothing discounts, take a look at Rebellious Fashion and Crew Clothing. Use our exclusive Rebellious Fashion discount code and you'll save 20% on your next order of its fashion-forward pieces, or use our exclusive Crew Clothing discount code and save 20% on its casual and everyday clothing.
How to use your Devout voucher code
To get your Devout voucher code, click on the 'Get Code' button on the right. A new window with your code will pop-up. Copy the code and head to the Devout website.
Click on the 'Shop Now' button. Adjust the filters on the left, and select the pieces you'd want to rent on the right. To select one of the pieces you'd want to rent, you should click on it, choose the size and colour, and click on the 'Rent' button below.
To review your pieces, click on the box icon in the upper right corner of the website. You must rent at least 5 pieces in one order. Once you've reached your 5 items, a new window will pop-up. You can continue browsing or you can click on the 'Go to My Box' to place your order.
Click on the 'I have a Voucher Code' line on the right (below the 'Place Order' button), and paste your Devout voucher code. Click on the 'Apply' button next to it.
Once your code is applied, click on the 'Place Order' button. A new window will pop-up. Select the 'Sign In' tab, fill in all the required contact information to create an account and click on the 'Next' button below.
Check your e-mail and enter the 5-digit code. Click on the 'Sign Up' button below. Click 'Ok' and then 'Subscribe'. Enter your billing address, change the delivery address if needed, and click 'Next'. Enter your card details, tick that you accept Terms and Conditions, and click 'Pay'.
More ladies brands similar to The Devout
About The Devout
The Devout is the new clothing rental experience for men and women across the UK. For a monthly subscription of just £79, it offers a wide range of top brands and unique vintage pieces to choose from. Your box will arrive free of charge and in sustainable packaging. Wear the items for the whole month, and if you like any of the pieces so much, you can rent it for another month or purchase it with a discount. At the same time when your new order arrives, the courier will pick up the previous one. By renting clothes from The Devout, not only you'll have different clothing pieces each month, but you'll also help over 350,000 tonnes of clothes not end up on the landfill each year.
Deal Terms
See the deal provider's website for terms & conditions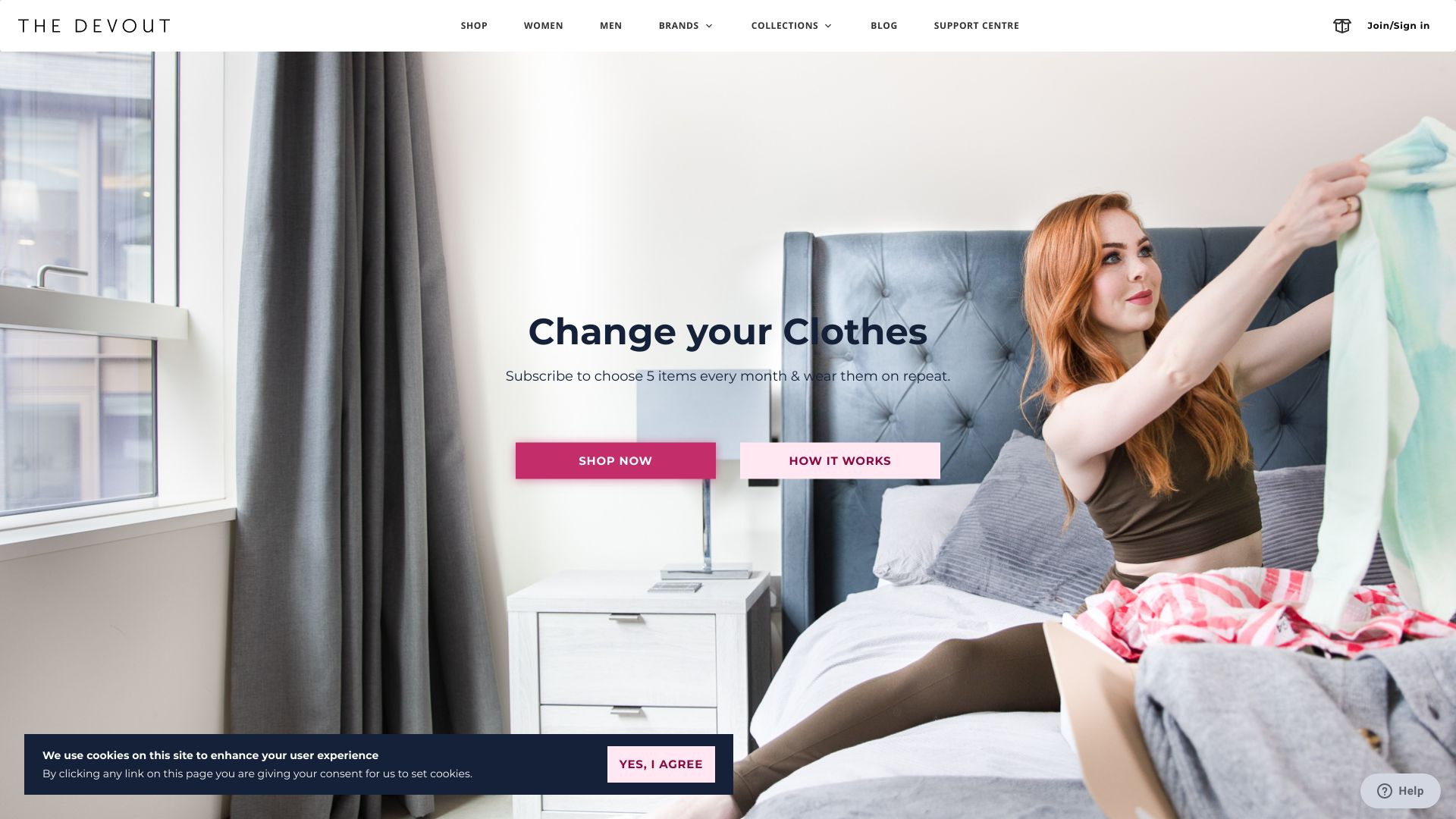 Similar deals to The Devout