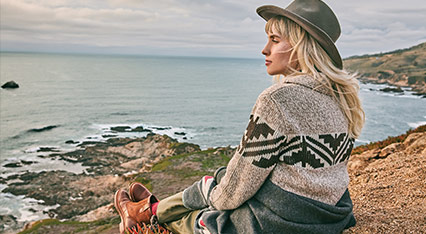 How to use your Clarks discount code
Click 'Get Code' to get the voucher code and open the Clarks website.
Make sure to sign up to TroopScout to see this code. Copy the code and begin shopping!
Add items to your shopping bag and when you're ready to purchase them, click on the shopping bag icon in the top right corner.
Enter the TroopScout voucher code into the box labelled 'Apply a Promotional Code'. Click 'Apply Code'.
When the discount has been applied, click 'Checkout Now'.
Continue on as a guest, existing customer or register as a new customer.
Enter delivery details and select delivery option. Click 'Continue to Review and Payment'.
Click 'Pay with Card' or PayPal. Enter payment details and then click 'Make Payment' to confirm your order.
More shoes brands similar to Clarks
About Clarks
Clarks is the iconic British shoe brand loved by many all over the world. Shoemakers since 1825, this retailer remains at the forefront of design and craftsmanship creating so many beautiful yet comfortable boots, sandals, heels, brogues and more!
Clarks is a shoemaking company that combines craftsmanship and invention to produce the best quality shoes. The production process entails using carved by hand hornbeam, advanced construction technologies and techniques not to mention counterplay materials.
Since 1825 when Cyrus and James Clark created the first foot-shaped shoe, the brand has embraced brilliant ideas, from rapid prototyping, innovative underfoot cushioning not to mention 3D printing.
Through deep scrutiny of the biomechanics of the human foot, Clarks has specialised on what it takes to keep feet happy and healthy. With over 22,000 Clarks styles, you are assured of quality with every purchase.
How can I place an order?
If you have spotted your shoe of choice, the next step is placing an order. To place an order, visit the Clarks website and enjoy a shopping experience 24/7 and get a 10% on your next purchase at Clarks with the TroopScout discount code. Your order will be delivered within a specified period.
Do I need a Clarks' account to place an order?
For a good shopping experience, you should create a Clarks account. You will only need to enter your personal details. By creating an account, you can be notified if there are any issues with your order, see your previous orders, reprint your order documents and save shipping addresses to ensure a simplified shopping process in your next order. You can also subscribe to receive marketing information. Please note that registering on the Clarks website differs from subscribing to marketing content. If you have a Clarks account, you will receive information such as important privacy notices and order confirmation details whether you have subscribed or not. However, this does not mean that you are subscribed to receive marketing content. You will only receive this content if you opt to do so while registering or by signing up for the Newsletter. You can also receive marketing content without having a registered account by subscribing to the Newsletter. If you wish to unsubscribe, click on the Unsubscribe icon on the bottom of the marketing emails or get in touch with the privacy team. If you have an active subscription with Clarks, you can reduce the number of marketing emails by unsubscribing at the preference centre.
What payment options can I use?
To enhance your shopping experience, we have various payment methods. You can pay using Visa Credit, Visa Debit, Klarna, Mastercard and PayPal. Solo or American Express are not accepted as modes of payment. Klarna is also not available for orders with a collect from store delivery type. eGifts and Clarks Gift Cards are accepted but only for in-store orders. If your credit or debit card is declined, contact your card issuer or re-submit your order with a different card. While you can use a card registered anywhere in the world to shop, your delivery address must be within the UK.
Do Clarks have buy now pay later options?
Yes. You have an option to pay later with Klarna. The popular Swedish payment service provider takes responsibility for your payment in more than 200,000 online stores, including Clarks. More than 85 million consumers globally trust Klarna to handle the payments. If using Klarna, you will receive payment instructions by email after which you will have 30 days to pay for the purchases. You can then complete the online payment at your convenience. Klarna does not have extra charges for the service. You can then pay Klarna via debit or credit card. To be eligible for the pay later option, you must be at least 18 years of age. Also, approval is highly dependent on your financial circumstances. The assessment, however, does not affect your credit rating.
To increase your chances of qualifying for the pay later service, ensure you provide accurate information including your full name, accurate shipping and billing address. The pay later service is not guaranteed in that it can be denied at any point and accepted at any point.
If you return or cancel your order while using Klarna, you will be refunded and will reflect immediately in the Klarna app. You can also choose to pay for your order as soon as you receive the email from Klarna. A payment confirmation will then be sent to your email address. If this delays, please check the status of your purchases on the Klarna app or website. To check on your order delivery status, contact Clarks or Klarna customer care. Klarna processes refunds swiftly. If you choose to cancel your order, Klarna will refund you within 5 business days to the same card that you paid with.
Also, Klarna ensures that your data is protected as per the latest industry-standard security protocols.
Tips on using your discount code?
Be sure to sign up to TroopScout to see the code. Simply copy the code and add items of choice to your shopping cart. When ready to make a purchase, enter the discount code and proceed to checkout. Once this is done, enter your delivery details and proceed to payment. You may forget to add your promo code. If this happens, you can return the items to any store. Please ensure you carry or show the voucher and you will be refunded the difference. Also, check out TroopScout for Vivobarefoot offers and Rieker discount vouchers.
What items can I use with the discount code?
The discount code is only valid for items full-priced and adult styled. The discount code excludes items that already have a sale ongoing, kids' shoes and originals.
What if my discount code is inactive?
If your discount code is inactive, please contact the customer care team for swift and professional assistance. If your promo code fails to work, it may be because you do not have a specific type of product among your shopping items. It may also be caused by a situation whereby the code is logged on to the site with the email address you have registered with. Also, please confirm that the discount code has not expired and that you have entered it correctly. To avoid this error, you can copy the code and paste it into the discount box if possible. If you are using Twins Trust, you get to enjoy a 10% discount when you show your card. This is however in-store only and is only applicable to shoes for children below the age of 16.
Do Clarks accept third-party payment vouchers?
While Clarks accept third-party gift vouchers across their stores in the UK, you cannot pay online with a gift card or a third-party voucher. Among accepted third-party gift cards include bonus bonds, compliments, shoe vouchers, capital bonds, One4all cards, compliments cards, gift choices, LOVE2SHOP, One4all Paper Vouchers, and English heritage. If you prefer to use gift cards, you can load them with £5 to £500. You can use gift cards while paying for purchases made in full price at Clarks stores and outlets in the Republic of Ireland the United Kingdom. This excludes Clarks' stockists and online payments.
You can buy a Gift Card using Visa Debit, Mastercard, Maestro, Mastercard Purchasing, MasterCard debit, Visa, Visa Purchasing and Visa Electron. Please note that American Express, Solo or PayPal is not accepted. If you purchase a gift card online, it will be sent by first class post. A signature will also be required.
You can redeem the gift card purchased in any of Clarks outlets in the Republic of Ireland and the UK for full price purchases excluding online and stockists' purchases. With up to 5 gift cards, you can pay part of the purchase price and use a different method of payment to clear the balance. Balances after using a gift card only expire after 2 years. Before expiry, you can use this balance to pay for future purchases.
To check your gift card balance, enter the card number followed by the pin at the back of the card. If this does not work, contact Clarks customer service assistance. Although you cannot top-up online, you can add extra funds to your gift card.
Can I use eGifts?
Yes, you can use your eGift in the Republic of Ireland and U.K stores. However, this excludes online and stockists' purchases. You can also use your eGift to purchase available products. However, you can use eGifts to purchase more eGifts. eGifts expire 2 years after last use including checking the balance or from purchase date. You can get refunds on purchases made with an eGift whereby you will be credited back to a Gift card. If you are having issues with your gift card delivery, simply track the number provided in your dispatch email. Clarks does not accept responsibility for stolen, lost or damaged cards.
Can I cancel my Clarks order?
We understand that you may change your mind after making an order. While it may be impossible to cancel or change an order once made, you can contact customer service who will make the return possible and refund you accordingly. Also, you can purchase up to eight items or items worth less than £600. Clarks restricts you from ordering two items of the same colour and size.
Does Clarks have a return policy?
Fortunately, if you are not happy with your purchase, you can return the item for an exchange or full return within 28 days of receipt. However, for the return to be valid, it must be in its original packaging and must be unworn. You will also be required to produce proof of purchase using your receipt or delivery documents. If you use Klarna as the payment method, you will be required to return the product to the distribution centre for a refund. Please note that Customized Desert Boots are non-exchangeable and non-refundable after purchase unless faulty.
Free returns will be offered via the post office, Clarks stores, collect plus locations and Hermes parcel shops.
How long will my refund take to be processed?
Returns made to the local store will be processed immediately. However, returns made by post will be processed once the item is received. For online orders, it will take at least 21 days for the funds to be credited back to your account. You can also exchange your order items within 28 days after purchase. For goods purchased in a sale, you can arrange for the exchange within 14 days of receipt. However, this excludes factory stores, Eire and wholesales, Factory stores or other stores outside the U.K.
How do I know what size to order?
Finding the perfect shoe size is paramount. At the end of your purchase, you don't want to remain with a badly fitting shoe. It is hence important to find your perfect fit before making that purchase. Luckily for you, Clarks offer whole and half-size ranges of width. The website also has a size guide that compares the U.K size, E. U size, the standard E.U size and the foot length in millimetres. It has also detailed narrow fit, standard fit, wide fit, extra wide fit for both men's and women's shoes. To ensure you get the correct measurement, place your foot on a flat surface with your heel against a straight edge. As your foot and heel are touching the straight edge, place a ruler and measure the length in millimetres. If you have a large shoe fit, you should not worry as Clarks accommodates up to extra wide feet for women, wide fit for men and extra fit for kids.
Can I have an in-store fitting at Clarks?
To help you find the perfect fit for kids and adults, take advantage of our in-store fit and measure expertise. To make the experience easier for you, you can book a 15-minutes fit and measure appointment at a time that best suits you.
Toddlers' and babies' feet grow almost two sizes each year. The correct fitting sizing for children enables the children's feet to grow naturally while also providing the necessary support. For school going kids, their feet continue to grow one size a year. Clarks trained fitters observe all safety measures and ensure that you get the right fit for your comfort. If you like a quiet time, we will provide a shopping experience that guarantees this. You can book a quiet-in store fitting without noise, bright lights and crowds. Contact your chosen store and book an appointment.
Can I have a virtual fitting at Clarks?
With the pandemic, you may prefer to have a virtual fitting. Book an appointment with a Clarks expert and get help through a video call from your location.
How much is Clarks shipping fee?
If you opt for standard delivery, it will take 3-4 days to get your purchase. This will take you back £3.95 on orders below £75. If your orders exceed £75, you will enjoy free delivery. However, standard delivery may take up to 2 days longer than usual during busy sale periods. For DPD next day delivery, be sure to place your orders before 7 pm. This costs £6.95 on all orders. If you opt for an express delivery, you will be charged 35.95. If within local pick-up points, you can choose one within your reach among the 5,800 local pickup points.
Can I track my online order?
We understand the need for you to track your order. As such, you can track your parcel using the order number and delivery postcode. However, if you are collecting your parcel from a Clarks store, you cannot track your order because the carrier that offers delivery services from the warehouse to the stores doesn't offer tracking. In this case, you will be notified when your order arrives. In-store orders are kept for 14 days. Please note that your order cannot be delivered to a British Forces Post Office (BFPO) address. If using Collect Plus, someone else can pick your order provided they have their ID and have the 7-digit parcel reference number.
What do I do if I have not received my shipment?
Due to unforeseeable circumstances, your order can take longer than expected. If it takes too long to receive your parcel, please contact customer care for assistance.
Can I cancel or change my order if it has already been dispatched?
Yes, you can cancel your order if you change your mind about a product. Delivery charges will not be refunded in this case. We will however, refund delivery charges if your product is faulty. You can also view your order status and history.
What happens if my order arrives when I am away from the shipping location?
If you are a person with busy schedules away from home, you can instruct the courier to leave your parcel with a neighbour or at a specific place. These delivery instructions should be entered in the checkout before placing the order. The parcel will then be left in a secure place with a postcard at your door stating where the items have been left. In case there is no suitable place to leave the parcel, it will be returned to the office and dispatched at a later date.
Can I get kids' shoes?
Although kids' shoes are not eligible for the 10% TroopScout discount offer, you get both girls' and boys' kids' shoes in all sizes. Whether you are looking for the buckle, elastic lace, lace, lace and zip, riptape, lace and riptape or zip, they are all available. You can also select the shoe type based on material including leather, patent, textile and Gore-Tex leather. Clarks uses the best technology to ensure comfort and durability. You will get a wide range of kid's shoes based on whether they are machine washable, use recycled material, are ortholite, have air spring FX or whether they are Gore-Tex. The price ranges from £10 to £69.99.
What women's shoes are available
Boots remain essential to women's trends not only during the winter but also any time of the year. With Clarks, you will get versatile, high street and fashion deals for any occasion. There is a wide variety for you, whether you are looking for ankle boots, Chelsea boots, desert boots, knee-high boots or mid-calf boots. If you are material-specific, you can choose between leather, nubuck, synthetic, oiled leather, suede and waxy leather. Other shoe types such as heels, sandals, trainers, loafers, brogues and ballets pumps are also available. If you are on the lookout for cozy slippers boots, check out Tower London vouchers.  
What men's shoes are available
If you are looking for discounted shoes, you will get a variety of brogues, loafers, sandals, slippers, trainers, hiking boots and wide fit shoes in multiple styles and colours.
I love a pair I recently bought! How do I increase durability?
To ensure your shoes last longer, it is paramount to offer them the best care, irrespective of whether you wear them every day or on occasions. Ensure you get Clarks range of protectors and polishers. This will ensure that you not only look good but also feel good while still guaranteeing your comfort. You can use active foam cleaners or moisture balm cream. To restore colour and hide scrapes, use shumagic, patent leather restorer or matt leather restorer. Also, you can replace shoe accessories including foam insoles, laces, heel grips, short shoehorn and leather stretcher if they wear out.
Is my data safe?
Clarks ensures that your data is protected. Data including name and contact details, purchase history, date of birth, payment information and device information. However, this will not be taken without your consent. Your data may, however, be transferred out of the EEA to countries and territories that provide enough personal data protection and adheres to the European Commission data laws. Your payment information is safe. For fraud prevention, Clarks does not store your payment information.
While your data is held provided you have a Clarks account, the information may still be available at Clarks even after you close your account. This is in adherence with regulatory and legal requirements, fraud prevention and for the purpose of resolving disputes. 
How do I contact Clarks if I have other issues?
For the best shopping experience, please contact Clarks customer service for professional and swift assistance. Please note that Clarks currently does not have a live chat option. Instead, get in touch via Facebook, Twitter and Instagram channels. For gift cards and ordering, you can call 01458 899904. For fitting appointments, call 01458 899053 and for store services call 01458 899901 between 9.00 am- 6.00 pm Monday to Friday. If you wish to contact Clarks by mail, please email your queries to customercare@clarks.com.Deal Terms
This promotional discount is valid against all full priced adult styles. Please note that the discount excludes, sale, reduced price, kids and originals.
Discover the best savings at Clarks with our exclusive discount code savings. Learn more about Clarks below
Clarks Latest Discount Code
Use our latest Clarks voucher, promo, discount and referral codes to save on your next shop at clarks.co.uk.
The partnership team at TroopScout are always hunting out military exclusive discount codes for Clarks to help you get the strongest, well deserved, discount code for you and your family.
How we find the best Clarks discount codes
Our deal hunting specialists spend all day finding a range of great money - saving codes for new customers and current customers alike. Sometimes that are hidden away on social media sites, within emails and on web pages found on clarks.co.uk.Rest assured that our team will do everything we can to help you save time and money with your first purchase or future purchases at Clarks !
Online shops such as Clarks sometimes have a range of promotional codes, voucher codes, free delivery codes, sales, free gifts & referral codes / links if they do – will will make sure to show every money-saving offer that we can find or negotiate.
Use TroopScout to discover the best exclusive savings Clarks has to offer.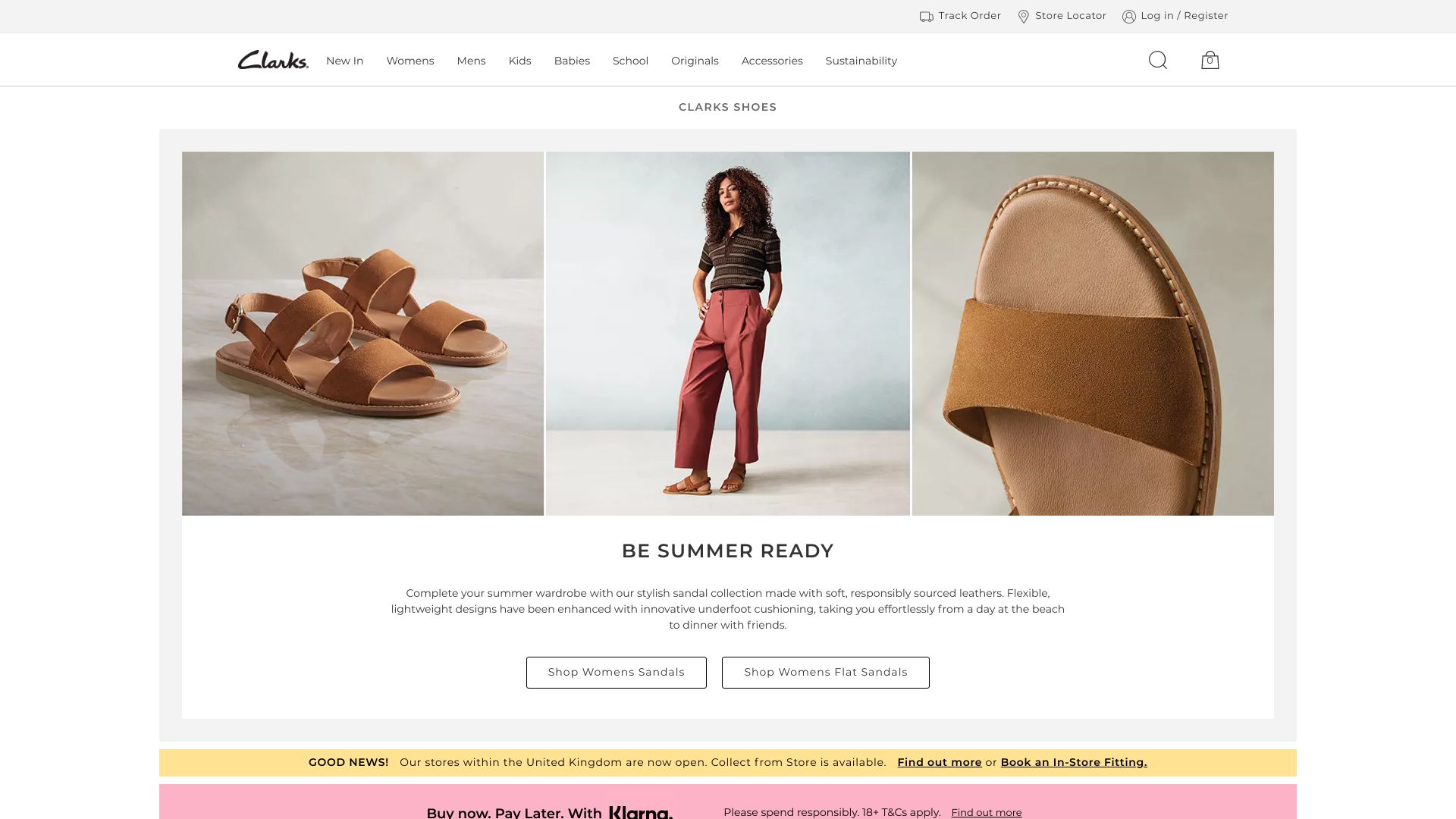 Similar deals to Clarks