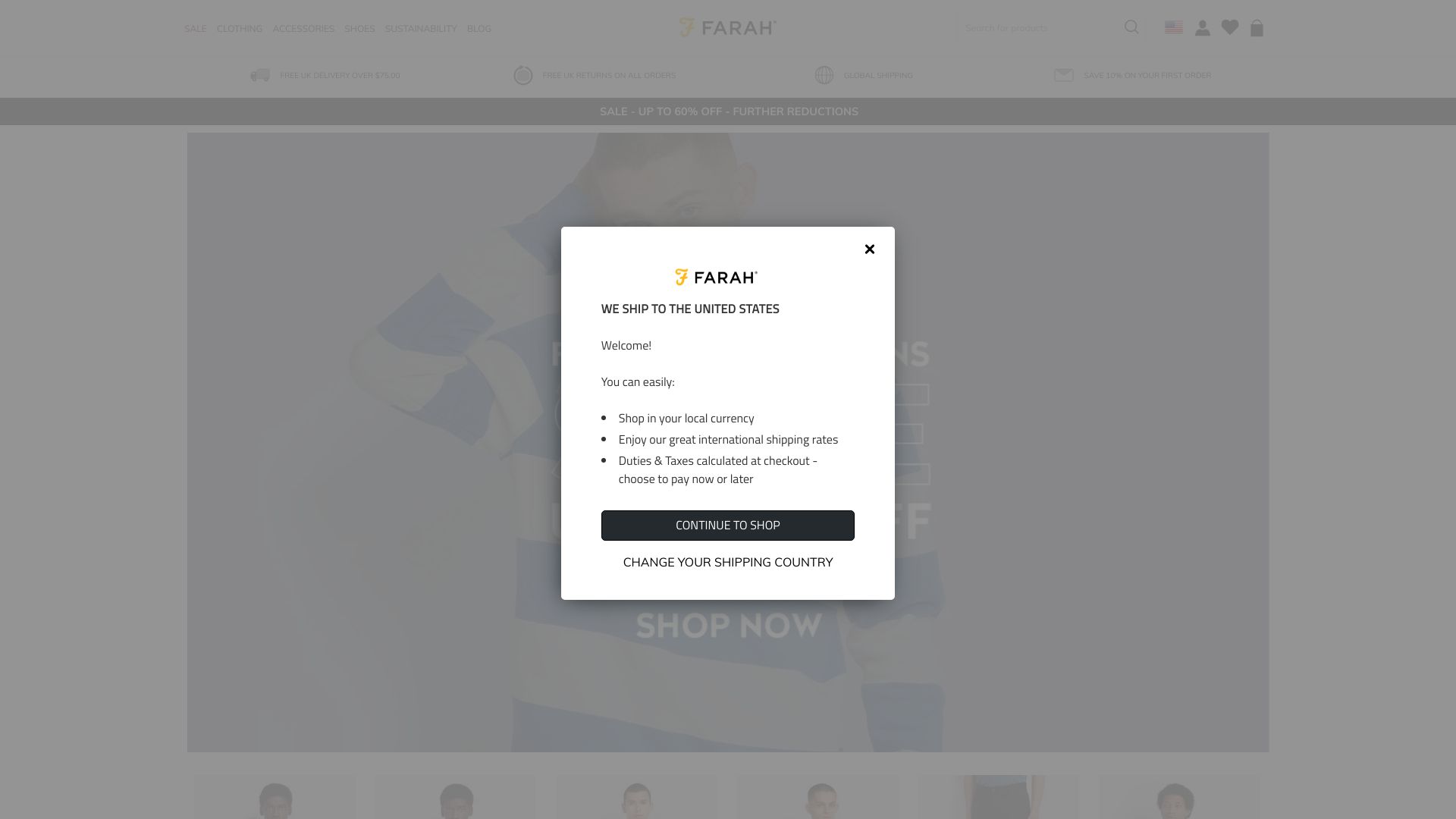 Related deals: Save 10% with our Clarks discount code or save 20% with our Crew Clothing Co discount code
TroopScout only feature the top brands on the market and Farah certainly fits the bill. With high quality clothing now available for less, take a look through the deals below and save some serious cash on looking your best.
How to use your Farah discount code
The promo code is simple and easy to use, from start to finish. We believe that claiming a coupon code shouldn't be stressful so we've set up an exclusive deal with Farah which is completely hassle-free. 
Claim your discount code at TroopScout and then click through to the Farah website to make your selection. When you've made your selections, add the code to the checkout process and just like magic, 10% of the price will melt away before your eyes. It really is that easy to enjoy amazing bargains and exclusive deals.
More mens brands similar to Farah
About Farah
Farah is a menswear label which is truly iconic. Starting life in El Paso, Texas the concept was dreamt up by a Lebanese immigrant, Mansour Farah, in 1920. Since its humble beginnings the brand has rapidly expanded, being taken over by the founder's sons in 1937 and arriving in the UK in the 1940s.
However, it was in the era of mods and skinheads when Farah really strode into the spotlight, commanding attention in the 1970s with its irresistible combination of inexpensive snappy clothing and unwavering high quality.
Despite a brief dalliance with womenswear in the late 1980s, the modern Farah is back to what it does best: stylish menswear. Smart, retro and cool, the Farah look is distinctive but wearable by all generations of males.
You won't find gaudy designs or outlandish prints at Farah as the focus is on elegant and preppy menswear with a trendy twist. Whether you're looking for a polo shirt and shorts or a new suit for work, you can trust Farah to deliver the quality.
Farah's website is easy to navigate around as it divides their clothing up into various sections such as essentials, suits, new arrivals etc. Although their main focus is clothing, Farah also offer a range of accessories such as belts, underwear, sunglasses and men's bags.
Farah Reviews
With such a long history it's not difficult to find plenty of customers who are willing to endorse Farah, and their reviews are extremely favourable. Here are some of the things that customers had to say about the brand:
Excellent fit
High quality
Washes up well
Classic styles
Interesting range
Extremely good value for money
Better than the competition
With a brand that's so established it's perhaps not the biggest surprise to discover that Farah is loved by customers on both sides of the Atlantic. Trusted to deliver quality at an affordable price, you can now save even more money with our military discounts and coupon codes.
Explore More
Farah are a menswear label which has a very defined style but we have lots of other clothing offers available too. Check out the amazing military discounts available at TroopScout to discover more menswear brands at rock-bottom prices. 
Deal Terms
See the deal provider's website for terms & conditions
Similar deals to Farah