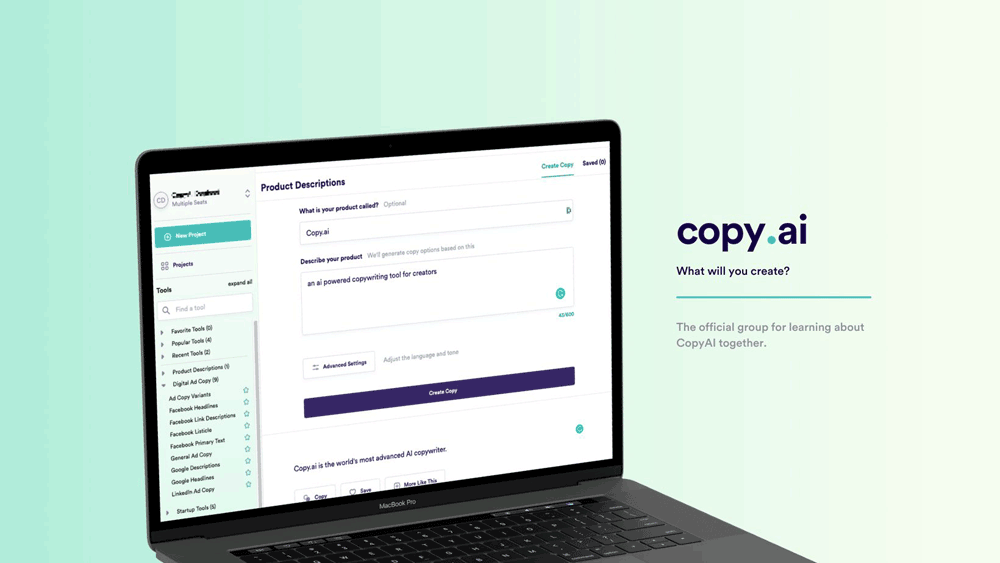 How to claim your CopyAI discount code
Copy your free CopyAI discount code.
Create your CopyAI account and choose the services that you want.
At checkout, paste your free discount code in the discount code box and apply.
Complete your CopyAI order and enjoy the services
More business brands similar to Copy.ai
About CopyAI
CopyAI is a brand that helps in the automatic generation of website copy, social media posts and landing pages for businesses. The platform uses artificial intelligence to generate content, ideas, intros and even outros like a content writing expert. This not only saves time but also ensures that businesses never run out of content, keeping their audience engaged at all times.
Among the services that the brand offers include website copy & SEO, eCommerce copy, blog content as well as social media & ads content. There are over 50 tools on the platform that help to optimize content for conversions, grammar checks and even sentence rewriter. The plans offered are also simple and transparent and are based on the monthly rolling credits available and the number of tools chosen.
CopyAI FAQs
How do CopyAI content and copy generation work?
CopyAI is an AI-powered platform. As such, the process of content and copy generation is simple. All you need to do is choose AI tools among the variety available. Once you fill in the product details, your content will be created by the highly trained AI.
Is content generated by CopyAI different from what a person would produce?
The content generated via CopyAI is even better. This is why you need to provide as many details as possible about your business. CopyAI generates human-like and unique content in seconds.
Will the CopyAI content help to boost traffic to my website?
Yes. By producing quality content, it will help boost traffic. 
Similar deals to Copy.ai


WEBFLOW
$2500 free credit for team plans

TIDE
Free £50 when you sign up and spend £500