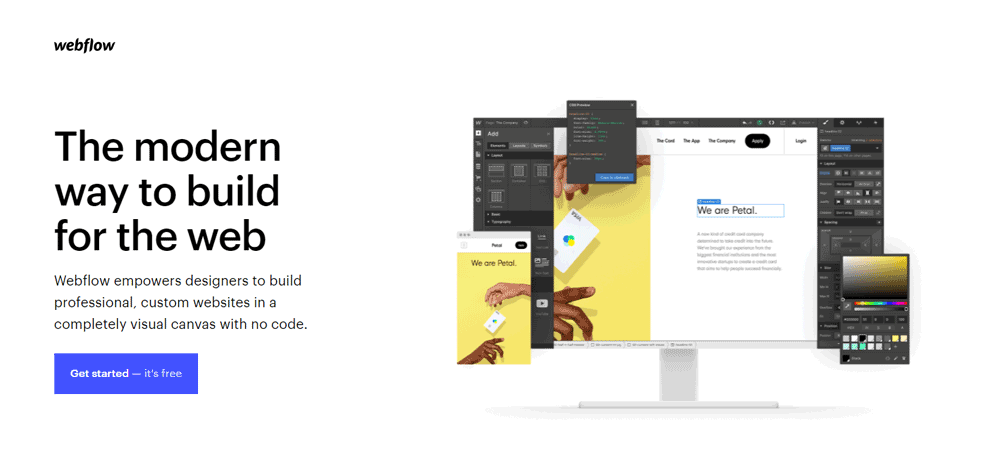 How to claim your Webflow discount code
Copy your free Webflow discount code.
Click the 'Get started' icon on the Webflow website.
Answer the required questions to create your Webflow account.
Paste your free Webflow discount code.
Complete your custom website and gain your clients' trust!
More business brands similar to Webflow
About Webflow
Based in San Francisco, Webflow is a web development company that provides website building and hosting services. The company was founded in 2013 by Vlad Magdalin. Users can build, design and launch websites via their online visual editor platform. The SaaS application allows users to build websites via the automatic generation of CSS, HTML and JavaScript.  
Websites built on the platform are hosted on Fastly and powered by Amazon Cloudfront. Also, the platform does not require external plugins, making it the best option for small and even large businesses and service providers.
Webflow FAQs
I am not a coding expert. How can I build my website on Webflow?
You can build your website on Webflow without coding knowledge. The platform takes control of CSS3, HTML5 and even JavaScript in a visual campus which translates your design in a semantic code that is ready to hand off to developers and even publish on the web.  You can use pre-built pieces such as tabs, sliders and background videos for complex elements.
How does the Webflow content management feature work?
To create content structures, add the content from a CSV, via the Webflow API or even by hand and design it virtually. The content management system works for developers, designers and editors.
Can I hire a Webflow expert to help with my next project?
Yes. Webflow has partnered with experts that can help you in your next project. The company offers both professional and enterprise partners.
Similar deals to Webflow


TIDE
Free £50 when you sign up and spend £500

SAGE
Exclusive 75% off accounting and payroll