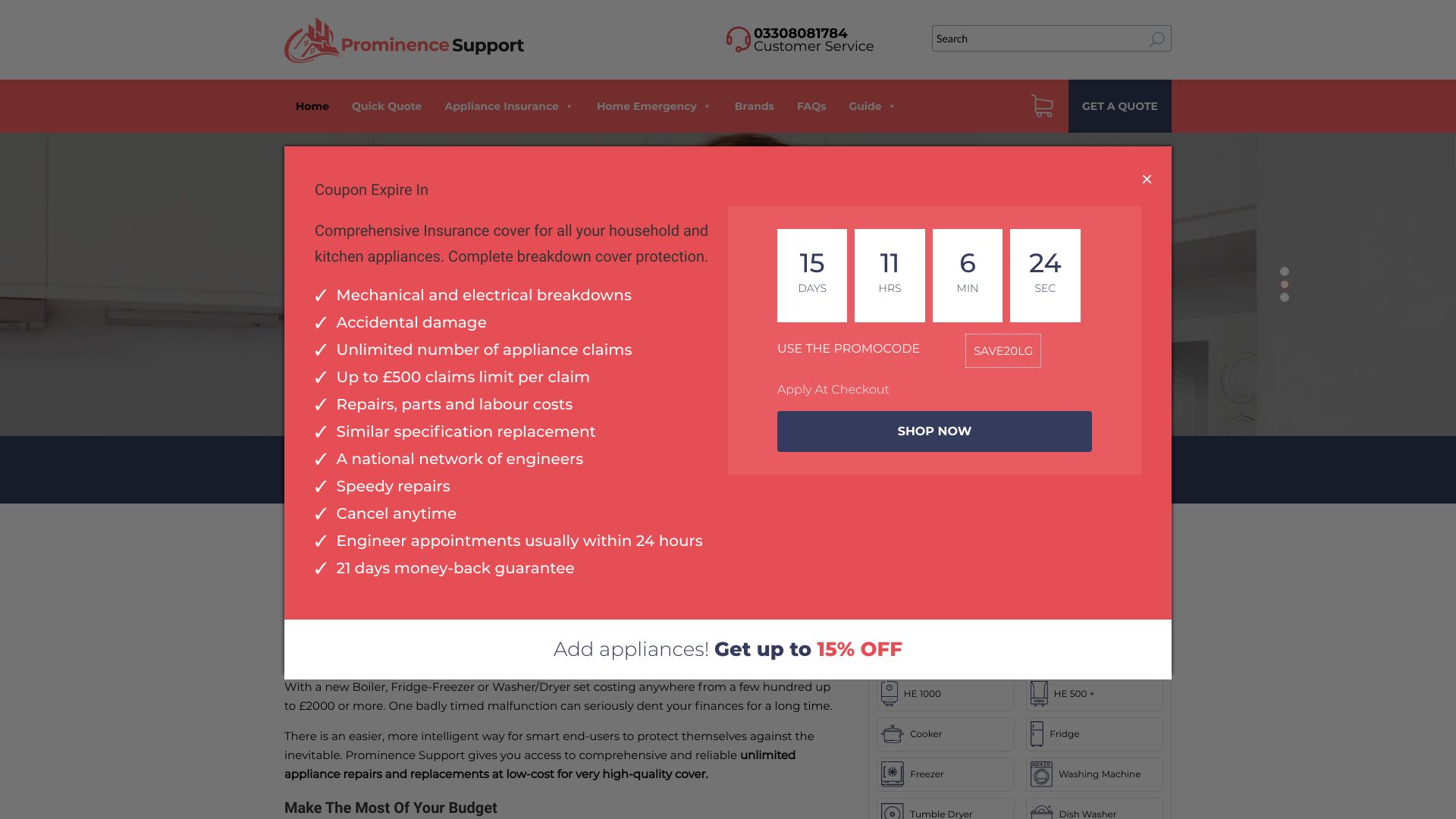 How to claim my free Prominence promo code?
To claim your free Prominence promo code, click on the get promo code button and copy your promo code.
Head over to the Prominence website and add the service you would like to your cart.
Fill in your details and payment options.
Click on checkout and paste your discount code in the promo code box.
Complete your order by entering the payment details.
More appliances brands similar to Prominence Support
About Prominence
Prominence is an insurance company that covers all household insurance needs, ensuring that disruptions from domestic emergencies are kept to a minimum. With over 30 years' experience, Prominence insurance experts ensure the provision of comprehensive and cost-effective products. By choosing Prominence, you are assured of low-cost domestic insurance that does not sacrifice the level of cover provided. The company offers low monthly fees and does not have hidden costs.
Prominence FAQs
What is the Prominence procedure if one of my appliances becomes faulty?
If your appliance becomes faulty, reach the Prominence team via call on 0330 088 5768. You will be requested to provide full details of the problem and your policy number. If the issue cannot be resolved over the phone, an engineer will be sent to your location.
Does Prominence insurance cover all home appliances?
Prominence appliance insurance covers breakdowns, failures and faults to fridges, ovens, freezers, hobs, microwaves, washing machines, dishwashers, televisions, stoves, washer dryers and DVD players just to list a few. For a comprehensive list of what the insurance covers, please check out the Prominence website. If you have an item that you want covered but is not listed on the website, please email the Prominence team via info@prominencesupport.co.uk.
Does Prominence cover old appliances?
If you want to know whether your old appliance can be covered, please reach the Prominence team via 0330 088 5768.
What will be covered in the Prominence appliance insurance?
Prominence appliance insurance covers electrical breakdowns, mechanical breakdowns and accidental damage.
How long should I wait for an engineer to visit?
Prominence ensures every problem is handled promptly. As such, an engineer should contact you within 24 hours. The engineer will contact you directly.
Are there any exclusions to the Prominence appliance insurance?
If you have Prominence insurance cover for your appliances, the cover will not apply if the appliance is deliberately damaged. Also, pre-existing damages before the cover will not be compensated not forgetting routine cleaning and maintenance of the appliances. If you use the appliances against the manufacturer's recommendations, you will not be compensated if any damage occurs.
Does Prominence have any restrictions on covering any appliance make and model?
Prominence covers all models and makes. Please check the Prominence website to confirm that the appliance model or make is on the list. If you cannot find it on the list, please contact the Prominence team.
What if I want to cancel my Prominence insurance policy?
You can cancel your policy. If you cancel within the initial 21 days, you will be refunded the full premium. However, if you cancel after 21 days, Prominence will refund a pro-rata payment which will cover the days paid in advance.
Will I receive any documents from Prominence to confirm my appliance cover?
 Prominence will send proof of payment via email after you purchase your cover within 2-7 days. The policy documents will also be sent via email within 7 working days. If you do not receive your documents, please contact the Prominence team for assistance.
I bought a new freezer. Can I update my appliance cover?
If you add an item to your home, it is essential to update it on your cover. You can also update your appliance if you want to change payment dates.
Do I have a limited number of claims?
No. With the Prominence appliance cover, you do not have a limited number of times to make a claim.
What appliance replacement can I expect?
If your appliance becomes faulty, Prominence engineers will repair it. If the damage extent is beyond repair, the appliance will be replaced with another with similar specifications. If this is unavailable, you will be given a voucher to purchase a new appliance.
I have a Prominence home emergency insurance cover. What is covered?
With a Prominence home emergency insurance cover, you are covered for leaking pipes in your property, boiler, central heating, warm air unit air and drain blockage among other essential home functions. Please check out the Prominence for the full list as well as exclusions.
What if I have a manufacturer's warranty?
Most new appliances come with manufacturer warranties. However, this only covers issues such as mechanical breakdowns. While this covers the basics, it does not cater for emergency calls and accidental damage. It will also not be applicable once the warranty expires. Also, a Prominence policy will cover multiple appliances while a manufacturer's policy only covers individual items.
How do I pay for my Prominence cover?
You can pay for your cover via direct debit, credit or debit card.
Prominence Reviews
Prominence has a 4.5 rating out of 85 reviews on Trustpilot.com. Customers love the fair pricing, excellent customer service, and prompt assistance regarding appliance repairs and maintenance.
Similar Offers
Get your boiler and heater covered with 247 Home Rescue and enjoy a stress-free home. Our promo code will get you 25% off the Homeowner plan that you choose.
Looking for a great deal on a life insurance policy? Check out MoneySuperMarket and get a £100 free Amazon gift card.
Take advantage of Motoring Assistance and get 20% off on your nationwide breakdown cover.
Terms and Conditions 
You can also get a further 10% off when you pay yearly.
Similar deals to Prominence Support

HOTPOINT
Exclusive Up to 30% + 25% off your order

SAMSUNG
Exclusive 20% off TVs, 15% off mobiles, 15% off home appliances