How to claim your free RiSE Coffee Box discount code
To claim your free RiSE Coffee Box discount code, click the get code icon and copy your free discount code.
Head over to the RiSE Coffee Box website, add all the items that you want to purchase to your basket and check out.
Paste your free discount code in the empty discount code box and apply.
Enter your contact info, shipping address and click 'Continue to shipping'.
Pay via your preferred payment method and wait for your order to arrive.
More coffee brands similar to Risecoffeebox
About RiSE Coffee Box
RiSE Coffee Box was founded by Ben and Alice. The company was born out of the love for tasting new coffee varieties more so from up coming roasters. The options available on the supermarket shelves were underwhelming. The team sought to search for a credible 1-month coffee subscription, with no success. RiSE will take you on a coffee adventure, one that you cannot find elsewhere. To showcase and deliver the best coffee, the company has partnered with exciting roasters across the UK.  The company now has a wide variety of coffee options and has even created its own coffee, Ibanda, which has sold out. If you are a coffee lover, you will love the RiSE coffee varieties.
RiSE Coffee Box Delivery
RiSE Coffee Box delivers globally. For UK deliveries, the company uses Royal Mail which delivers within 5-7 working days. Rest of the world deliveries can take 7-10 days to arrive. Similarly, European deliveries can take longer.

RiSE Coffee Box Returns Policy
If you do not like the taste of your RiSE coffee, the company will replace it regardless of your location. If the packaging arrives damaged or you experience other issues, please reach to the RiSE coffee Box team via call on 07960047315 or email at hello@risecoffeebox.co.uk.
RiSE Coffee Box FAQs
How much coffee does the RiSE Coffee Box contain?
Each RiSE Coffee Box has at least two bags of premium and handpicked coffee. These are directly sourced from independent roasting partners. Each bag contains 227- 250 grams. And depending on how strong you like your daily dose; this is an average of 20-30 cups of coffee monthly. However, there will be more cups if you are using ground beans.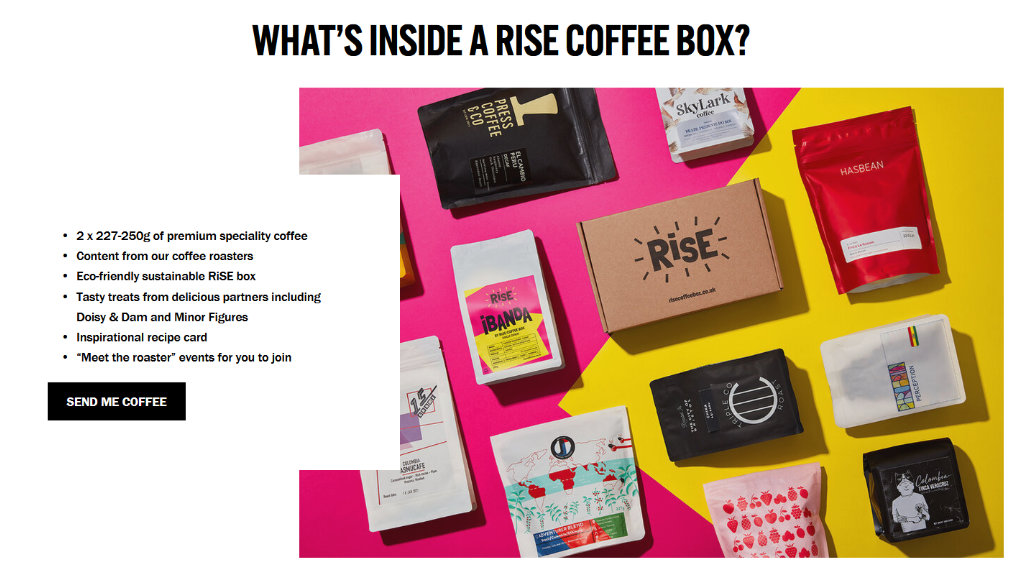 What is the cost of the RiSE Coffee Box subscription?
A monthly RiSE Coffee Box subscription will take you back £16.99 only per box. Depending on your needs, you can choose the monthly, fortnightly or bi-monthly subscriptions. And if you barely consume coffee, the RiSE surprise is the best option.
What if I do not like my coffee and I have an active subscription?
It is unlikely that you will not love your RiSE Coffee Box subscription. However, to prevent such occurrences, get a one-off and see if you like the coffee. However, you can always cancel or pause your coffee subscription anytime.
I like ground coffee beans? Can I get these at RiSE Coffee Box?
Absolutely. Whether you like the ground or whole beans, there is lots of variety for you to choose from. Whole coffee beans are the best option if you want to maintain the coffee beans for a long period. But whichever option you prefer, just select and it will be delivered straight to your door.
I want to try the full coffee beans. Which is the best grinder in the market?
There are different varieties of grinders in the market. For the best results, purchase an electric grinder.
How does RiSE coffee package the coffee?
RiSE Coffee is available in its original packaging from the roasting partners. To maintain the freshness, RiSE Coffee Box does not repackage the coffee. This also allows the company to be more sustainable with the packaging.

How does RiSE Coffee Box ensure that the coffee delivered is fresh?
RiSE Coffee Box ensures that you only get fresh coffee by working with independent roasters. The deliveries are also prompt.
What if I want to buy only one bag of coffee?
Unfortunately, this is not possible. RiSE Coffee Box aims to showcase a wide range of handpicked and unusual coffee from its partners. If you like a certain blend, you can order the specific bag from their website.
What payment methods does RiSE Coffee Box accept?
The company accepts debit cards, credit cards and PayPal payments.
How can I contact RiSE Coffee Box?
Please reach the RiSE Coffee Box team via hello@risecoffeebox.co.uk.
RiSE Coffee Box Reviews
RiSE Coffee Box has an excellent rating of 4.6 among 22 reviews on Trustpilot. Customers are thrilled by the quality of coffee, fantastic services and brilliant packaging. 
Similar deals to Risecoffeebox


GRIND
Exclusive 30% off your first subscription

GRIND
Exclusive 30% off your first order