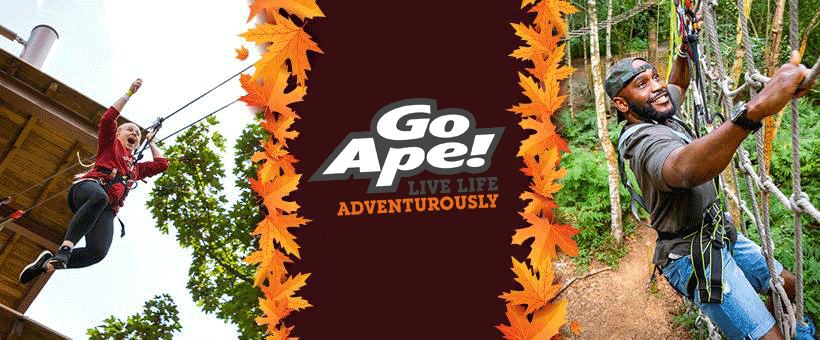 Go Ape 15% off Armed Forces Voucher Code Discount
Click 'Get Code' to get the code and open the Go Ape web site.
Select your dates and add to basket
Enter the code shown above at checkout to enjoy 15% off !
Proof of armed forces employment will be required at the course upon arrival.
Have a look at the Go Ape website above to get an idea of the range of activities involved at a location near you.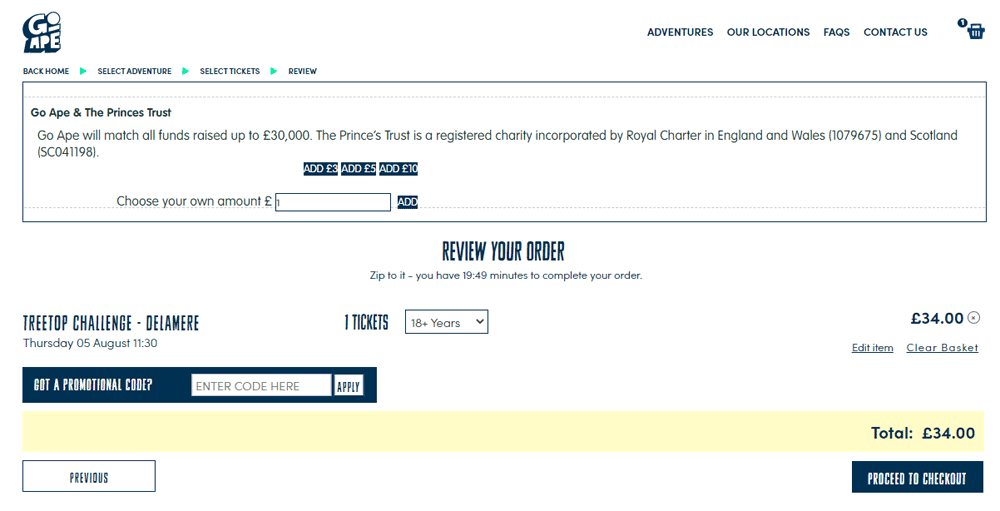 More day trips brands similar to Go Ape
Go Ape FAQs
What types of adventures are available at Go Ape?
Go Ape has a wide variety of adventures that you can enjoy such as the Treetop challenge, Treetop adventure, the Zip trekking adventure, Forest Segway, electric scooters, sundown trees, axe throwing and sundown Segways.
How can I book for my adventure?
If you wish to book activities and day trips, please visit the Go Ape website and click on the 'Book now' icon. The Go Ape team will be in touch.
What if I want to plan for my family's adventure in advance?
To ensure you have a seamless family adventure, ensure you book for your adventure in advance. This is especially important during the weekends and school holidays.
How can I find a Go Ape site near me?
To get the nearest Go Ape site near you, visit the Go Ape website and choose your preferred location on the 'Select Location' feature.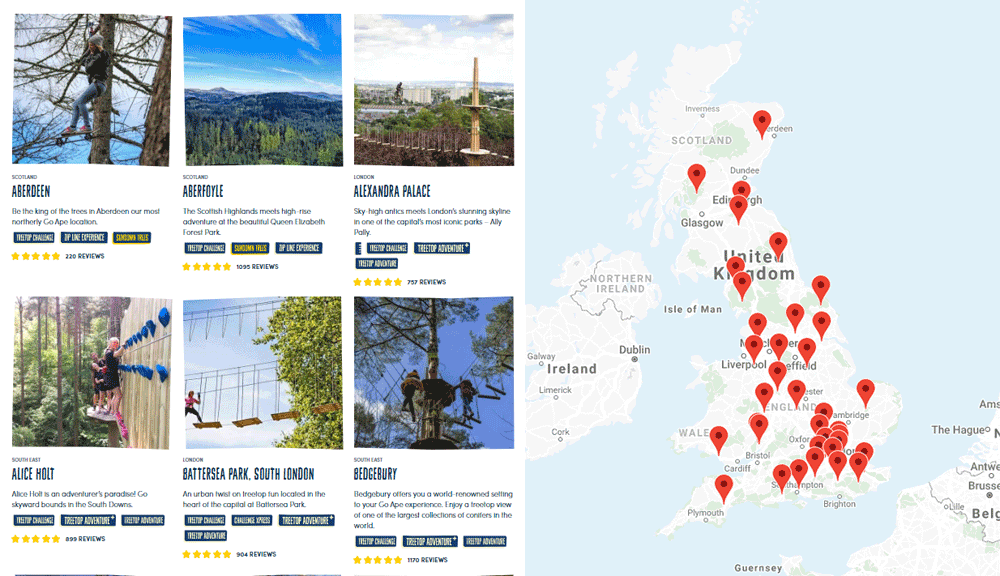 What if I need a quote to organize for my visit?
If you need a quote, email Go Ape on groups@goape.co.uk or call Go Ape on 01284 852210.
What is the price estimate for the adventures?
The pricing varies with the type of adventure and duration. For instance, if you want to experience the Treetop challenge, you will be charged £25 for 2-3 hours. There are other adventures that you can enjoy within shorter time frames of as little as 20 minutes.
What other facilities are available at Go Ape sites?
Although the availability of facilities differs with various site locations, you will find toilet facilities, parking facilities and refreshments. Please ensure you check with the location on the availability of amenities before vesting.
Does Go Ape have gift vouchers?
If you want your loved one or friend to experience days of adventure with Go Ape, you can get them a gift adventure. Get an experience gift voucher or gift cards. These start at £10 and you get to choose the type of adventure as well as the amount to spend. You can also get a personalized voucher that can be sent to a physical location or an e-voucher that will be sent via email.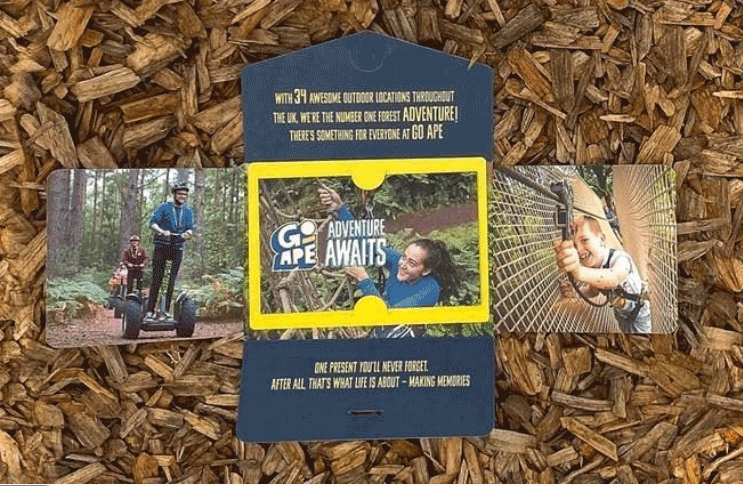 Will my Go Ape gift voucher expire?
Yes, your gift voucher will expire after 365 days.
Does the gift voucher limit locations where it can be redeemed?
The Go Ape gift voucher can be redeemed on any Go Ape location provided it has the chosen adventure activity.
How do I purchase a Go Ape voucher?
To purchase your gift voucher, click on the gift vouchers section on the Go Ape website.
Similar Offers
 If you are looking for more offers similar to the Go Ape discount code, check out BuyaGift and get 15% off all your orders and get to enjoy over 1000 experiences.
Interested in unforgettable experiences for yourself or your loved ones? Take advantage of our the Red Letter Days discount code and get 15% off all your orders.
Family outings any day! Enjoy your family and kids' day out with Kids Pass and get 30 days for £1.
Deal Terms
Please refer to Go Ape's Booking Terms & Conditions.
Offer is valid Sunday - Friday. Excludes Saturdays.
Some sites will close end of October and re open half term Feb, please check on our website for full availability.
Please check on booking season closing times (daylight hours) for all Go Ape Sites.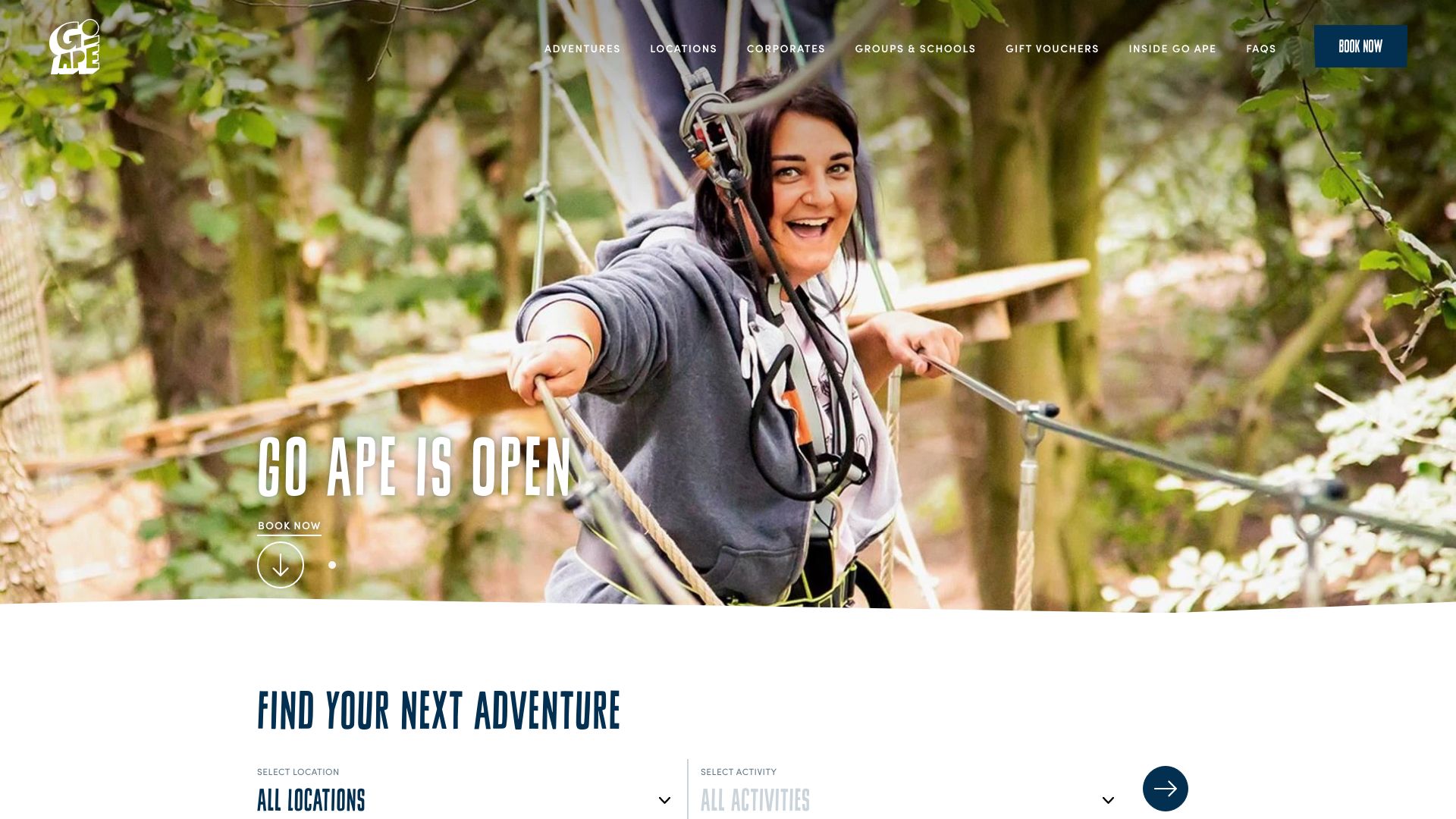 Similar deals to Go Ape