Looking for similar products? Check out Hello Fresh, a food delivery service, or Spicentice, affordable and healthy meal kits. With our Hello Fresh discount code, you'll save 66% off its meal kits, while our Spicentice discount code brings you 20% on the entire range of its products.
How to use your British Corner Shop promotional code
To redeem your British Corner Shop promotional code, select the 'Get Code' button on the right. A pop-up window will open. Copy the code and proceed to the British Corner Shop website.
Click on a product you'd want to purchase, select quantity, and click on the 'Add to Basket' button next to it. Choose 'Continue Shopping' from a pop-up window to add more products, or 'View My Basket' if you're done shopping.
Review your order and click on the 'Checkout Now' button.
Enter your personal details and your delivery address. Add billing address if its different than your delivery address.
Click on the 'I have a Promo Code' line below, and enter your British Corner Shop promotional code, Agree to the British Corner Shop Terms & Conditions, and click on the 'Proceed With Checkout' button below.
Review your order, choose your courier, and click on the 'Proceed With Checkout' button below. Select your payment method and click on the 'Pay With...' button below your chosen payment method. Enter and confirm your card details.
More groceries brands similar to British Corner Shop
About British Corner Shop
British Corner Shop is an award-wining online shop for British expats across the world. Ever since 1999, it's been offering everyone's favourite grocery products made in the UK, as well as books, supplements, skin and hair care products. The store offers over 12,000 products from a wide range of British brands. With its secure transport and amazing customer service, you'll enjoy not only the food but the whole shopping experience, as well.
British Corner Shop delivery  
British Corner Shop delivers its orders worldwide. All British Corner Shop deliveries are fully insured, meaning they're 100% guaranteed against damages or breakages. Dry and Chilled orders are classed and delivered separately. When you open your shopping basket, you'll see a Delivery Optimiser, which indicates how much is in your current box and how much do you need to get the best possible deal on shipping. Delivery time and costs will depend on the chosen courier and delivery country.
British Corner Shop reviews
Based on over 23,000 customer reviews, British Corner Shop has a 4.7/5 TrustScore and is rated as excellent. It's ranked 3rd out of 17 in the category Sweet shop, and 4th out of 19 in the category Supermarket.
Deal Terms
See the deal provider's website for terms & conditions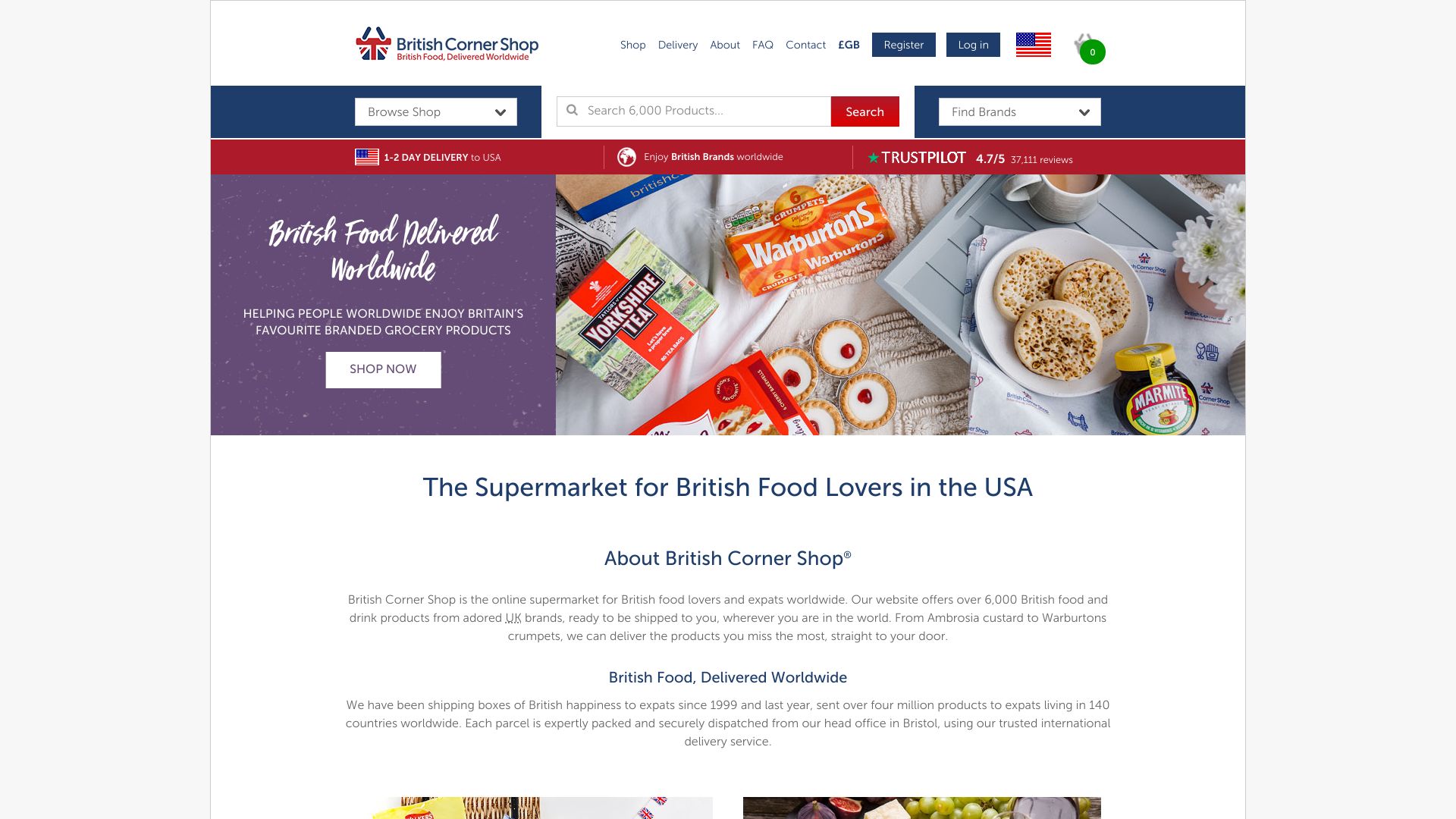 Similar deals to British Corner Shop

GOUSTO
65% off first box + 30% off first month

KOCKTAIL
Exclusive 50% off your first month

GRUBBY
Exclusive 50% off your first week then 30% off next 3 weeks