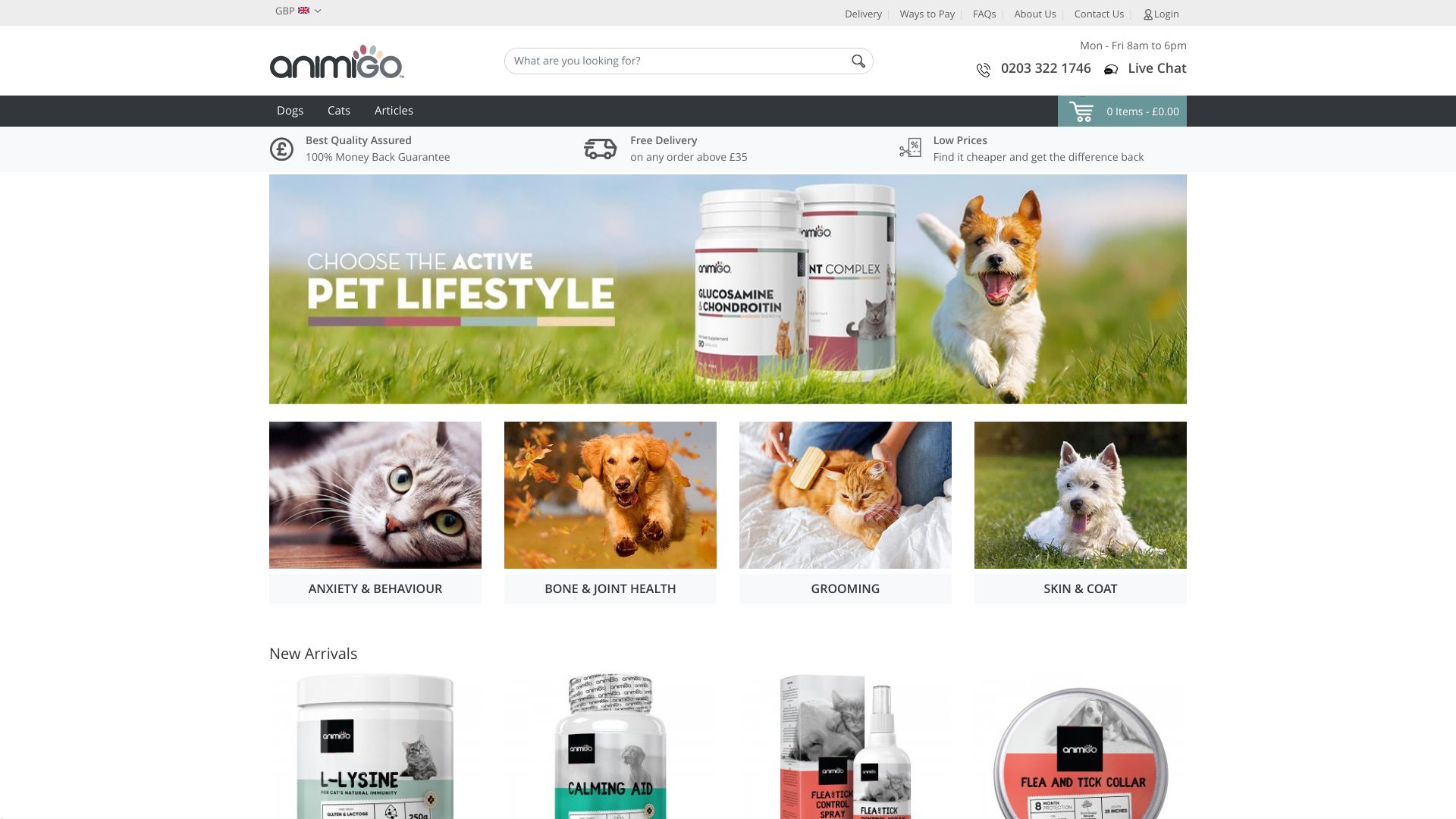 How to claim my free Animigo promo code?
To claim your free Animigo promo code, copy your promo code by clicking on the get promo code button.
Head over to the Animigo website and add all the needs of your furry friend to your basket.
Click on secure checkout and paste your promo code in the 'Apply a promo code' box. Do not forget to apply.
Proceed to checkout and finish your order by entering the delivery details and payment details.
More dogs brands similar to Animigo
About Animigo
Established in 2005, Animigo is a company that specializes in cat and dog products. Based on the importance of the role of pets in people's lives, Animigo retails pet products to ensure they remain happy, healthy and fit. The company only uses advanced formulations and natural ingredients to make the products. As such, every product is tailored to the needs of every animal. And now, the pet care company has offices globally including India, the UK, New Zealand and Australia.
Animigo Delivery
Animigo has prompt delivery services.
For deliveries in the UK, you can use the 2-3 days delivery service. This will cost £3.49. If you opt for the next day delivery service, you will be charged £4.99 while the next day by 4 pm delivery service will set you back £9.99.
International deliveries will be made via Royal Mail 10-12 working days delivery service. This will cost £9.95.
Please note that if you make your order on the weekends or bank holidays, it will be processed the next working day. If you want to track your order, use the order tracking feature on the Animigo website.
Animigo Returns Policy
If you do not like your Animigo purchase, you can return it to the company.
Ensure you return the products before the lapse of 30 days after delivery. For a full refund, the returns must be in their original condition. Your refund will be made using your original payment method within 2-3 days. If making a return from international locations, please note that it could take up to 21 days for the items to reach the Animigo warehouses.
If you receive a faulty item, please get in touch with the Animigo team for assistance.
Animigo FAQs
What cat and dog products can I find at Animigo?
Animigo has a wide range of dog and cat products including allergy, ticks and fleas, brain health, dental health, skin and coat, digestion and detox, wellbeing, immunity support and bone and joint health products.
What if I want to place my Animigo order via phone?
If you prefer to make your Animigo order via phone, reach out to the customer service team for speedy assistance.
What benefits do I get by creating an Animigo account?
With an Animigo account, you can view previous purchases, place other orders and update your personal details.
How do I pay for my Animigo order?
Animigo accepts payments via Visa, PayPal, Mastercard, Visa Electron and AMEX. You can also pay via PayPoint.
Why is my Animigo order declined?
Animigo may decline your order in instances where the goods are out of stock, your payment cannot be authorized, the company is not allowed to sell the goods to you or there is a mistake in the description of the products and the pricing.
Is there a product I can use to control my dog's barking?
If you are tired of your dog barking at anything and everything, you can control it safely by using the anti-bark collar. This collar uses intelligent beep and buzz technology and does not hurt the dog in any way. It is also waterproof and weatherproof.
I purchased the anti-bark collar. How do I use it?
The anti-bark collar is simple to use. Ensure you test the device by setting the sensitivity to D first before using it on your dog. Imitate the dog's bark and if the device is not triggered, retest it. When triggered, the device should beep and then vibrate. Safely place the device on your dog's neck, ensuring there is sufficient space between the neck and the collar. For maximum comfort, reposition it every 1-2 hours.
My dog gets panic attacks. How can I help it?
There are many causes of panic attacks in dogs. Some of the symptoms you should be on the lookout for include trembling or shaking, chewing on themselves, failure to eat, barking, biting or acting aggressive or wanting more attention than usual. If your dog exhibits panic attacks, visit a vet as soon as possible. To calm constant panic attacks in dogs, calming supplements will help. Animigo has a wide variety that you can check out.
Is my data safe with Animigo?
Animigo may collect your personal data to fulfil your order. However, the company does not share your data with other third parties nor does it use it for unlawful purposes. Your data is used to fulfil your order and inform you of new products in the market.
How do I contact the Animigo team?
You can reach the Animigo team via call on 0203 322 1746 or live chat them via the website. The team will be ready to assist you.
Animigo Reviews
Animigo has a 4.6 rating among 212 reviews on Trustpilot. The company offers great products, amazing customer service, affordable prices and outstanding delivery services.
Similar Offers
Pet insurance comes in handy for those unexpected health issues. If you are looking for a pet insurance plan, check out Petplan and get 10% off on pet insurance plans.
Purchase natural dog foods, accessories and clothes with Not In The Dog House and save 10% on your next order.
Looking for personalized posters? Check out our Purr and Mutt discount code and get 10% off your purchases.
Similar deals to Animigo

TAILS
75% off your first box