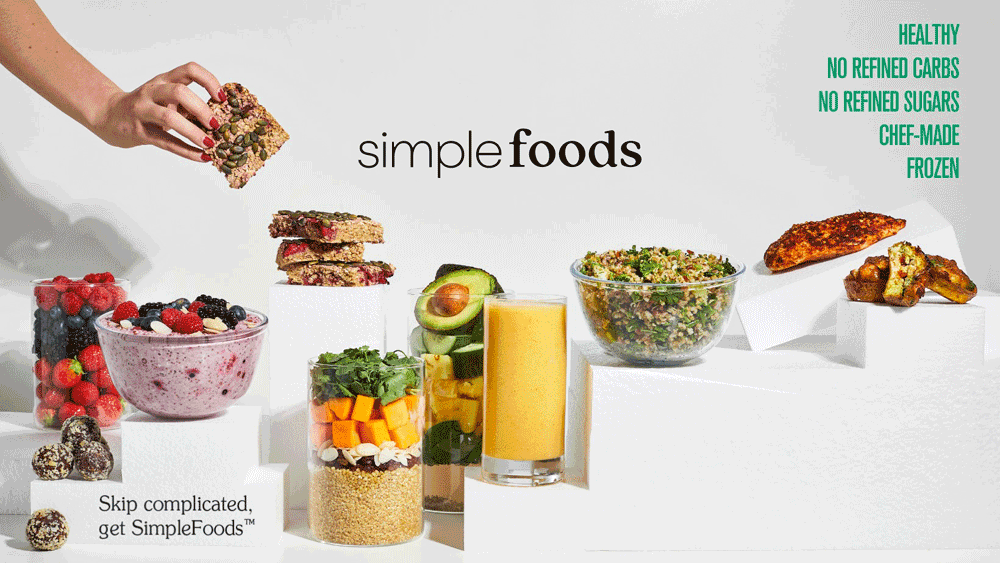 How to claim your free Simple Foods discount code
To claim your free Simple Foods discount code, start by copying your free discount code.
Proceed to the Simple Foods website and all the items that you want to buy in your box.
Click the checkout icon once you choose a date and time.
Paste your free discount code in the empty discount code box and apply.
Complete your Simple Foods order by entering your contact information, shipping address followed by the preferred payment method.
More prepared meals brands similar to SimpleFoods
About Simple Foods
Founded by Alessandra, Simple Foods is a brand that provides different varieties of delicious, healthy and frozen foods suited for a busy lifestyle. What started due to the lack of specialty products in the grocery stores is now a renowned brand in the UK. Upon realizing the gap in the market, Ale set out the ultimate local frozen for freshness market. And seeing that the best approach to having a healthy nation is by eating a balanced diet, the company sources foods from the country via sustainable practices. Whether you are looking for snacks, proteins, veggies, soups, smoothies and even breakfast options, check out the variety at Simple Foods.
Simple Foods Delivery
Simple Foods delivers in the UK. All deliveries are done on Tuesdays and Thursdays. Your courier will alert you about your delivery slot on time. If you are not around to receive your Simple Foods order, it will be left in a safe place which you will be notified of. The company packages all orders using recyclable packaging that has special insulation. This can keep your food frozen until 7 pm. If you experience any delivery issues, please contact Simple Foods at support@eatsimplefoods.co.uk.
Simple Foods Returns Policy
If you experience any issues with your Simple Foods order, please reach out to the customer service team via support@eatsimplefoods.co.uk. The company will issue a full refund in instances where it is deemed at fault. Your funds will be credited to your original payment method within 5-10 working days.
Simple Foods FAQs
I am allergic to dairy. Can I get suitable food at Simple Foods?
Yes. Simple Foods has all types of foods. You can sort food by using the filter method on the website. If you want dairy free food, click on the icon and you will see the available options. The company also provides foods for vegans, vegetarians as well those who are allergic to nuts and gluten.
Why do Simple Foods sell frozen foods?
Frozen food is just as good as fresh. The company aims at ensuring you never miss any of the ingredients that you need to prepare your food.
Does the food lose nutrients when frozen?
If you are worried that the frozen food will lose its nutrients, you will be relieved to know that Simple Foods vacuum seals all foods, a process that ensures that all nutrients are locked, the food maintains its flavour and guarantees the optimum cooking results.  
Who develops the Simple Foods recipes?
All Simple Foods recipes are developed by the company's in-house chef right at the Simple Foods kitchen.
Do Simple Foods provide recipes and how-to cook instructions?
Yes. Simple Foods provides recipes and cooking instructions. The recipes are simple and easy to follow.
Do Simple Foods offer healthy meals?
Yes. All Simple Foods are not only healthy, delicious but also convenient.
Can I eat Simple Foods meals if I'm on a diet plan?
Yes. You can eat Simple Food meals even if you are on a diet since all the food is healthy and delicious.
Do I need a subscription to enjoy Simple Foods products?
No. Simple Foods believes in flexibility. You can start your Simple Foods journey without a subscription.
Do Simple foods have a minimum order requirement?
Yes. To optimize all deliveries and logistics, the company has a 12 or 24 minimum order. Lucky for you, Simple Foods does not have a maximum order limit.
How should I store my Simple Foods produce?
You can keep your Simple Foods products in the fridge and consumer within 48 hours. Ensure you freeze your food for a longer shelf life.
Where do Simple Foods source the food?
The company sources the food from British farms and small producers. The protein is sourced from 100% free-range chicken and grass-fed meat.
Simple Foods Reviews
Simple Foods has an excellent rating of 4.6 among 67 reviews on Trustpilot. The company provides tasty foods, fantastic services and precise deliveries. The food is easy to prepare, not to forget the generous portions.
Similar deals to SimpleFoods



PLANTY
£30 off your first three boxes (£10 off per box)