How to claim your free Planty discount code
To claim your free Planty discount code, start by clicking the 'Get discount code' icon and copy your discount code.
Head over to the Planty website and click the 'Get started' icon.
Select the menu options that you want to purchase and add them to your box. You can view your box to confirm your purchase. Choose the box size and click the continue icon.
Select the subscription or one-off purchase option and the delivery date. You can also add delivery notes such as where the box should be left.
Paste your free Planty discount code in the empty discount code box and click apply.
Fill in your contact information and shipping address and click 'continue to shipping'.
Finish your order by entering your payment method.

More vegan brands similar to Planty
About Planty
Based in the UK, Planty is a brand that specializes in 100% plant-based meals. Planty only uses ingredients sourced from known and reputable partners. Not only are these healthy but are also good for the planet. And by taking care of the cooking, the company ensures that you can focus on other essential things. Planty only provides nutritionally approved meals using the freshest ingredients. Whether you have an event coming up and want to save some time and energy, or are hosting friends or even have busy work schedules, pick a delivery date and wait for your Planty tasty meal to arrive. 
Planty Delivery
Planty delivers only in the UK. Your purchases will be delivered to the specific address provided in your order for free. If there is a delay in the delivery of your items, the company will contact you within a reasonable time frame. If you are not at the delivery location and no one else can receive the order, the delivery team will leave a note on how to collect the goods or when you can re-arrange for delivery. If you fail to organize for a re-delivery, you will be contacted with instructions on how you can receive the goods. Please note that you may be charged for storage costs incurred during this period. 
Planty Returns Policy
While it is unlikely that you will not enjoy your Planty order, contact the Planty team if there is a fault with your delivery. You can cancel your Planty contract within 14 days after delivery in the case of one-off purchases or subscription contracts. If your order is delayed beyond a reasonable time frame, Planty will refund any products that you have paid for but are yet to be delivered. Please note that the company cannot refund personalized goods, goods that have the seals broken or products that deteriorate rapidly.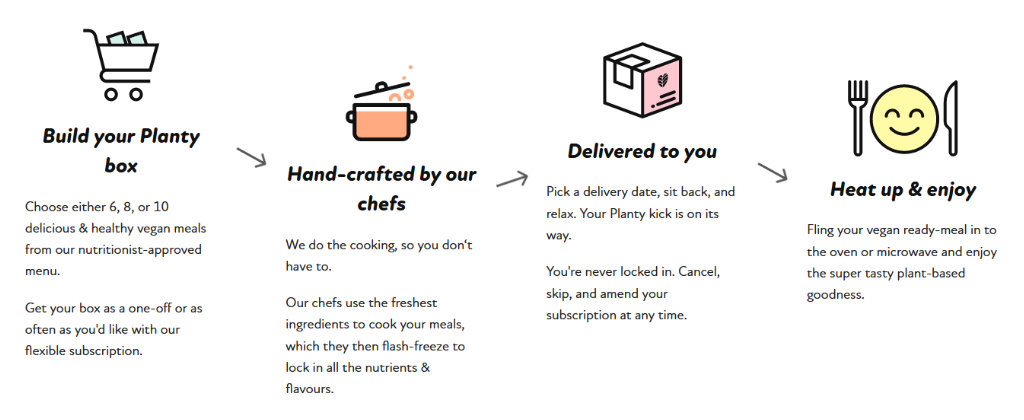 Planty FAQs
Are Planty meals plant-based?
Yes. Planty offers 100% plant-based meals using the freshest ingredients. All meals are free from chicken, eggs, dairy, fish and honey.
How long do Planty meals last?
Planty meals can last for up to 3 days when refrigerated and 3 months when frozen. Although the cooking instructions show how to cook the meals when frozen, you can also cook from refrigeration by reducing the cooking time. If you want fresh meals, you are better off with the subscription model.
How do I tell the exact nutrition values of my meals?
Planty lists all nutritional, allergen and ingredients of each meal on the back of the packaging. In case this is not readable, you can check the information on the Planty website.
Are Planty meals organic?
No. However, the company strives to source organic ingredients where possible. The cost of organic products is rather high, and that would significantly raise the prices of the meals.
Are Planty meals allergen-free?
No. While Planty strives to provide allergen-free foods, there is a variety of foods that may contain allergens due to cross-contamination. Also, all the allergens are listed on the website as well as the packaging.
Can I change my order?
Yes. You can change your order once placed. However, you need to contact the Planty team as soon as possible. Your ability to change your order will be affected by the delivery timelines and changes in pricing.
How long does it take for my delivery to arrive?
It takes 3 days for Planty to process, cook and deliver your orders. As such, you should order 3 days before the delivery date.
How do I know the status of my order?
Once you place your order, you will receive a confirmation email with the delivery information and tracking number. You will also be given a 1-hour window on the delivery date before the order delivery.
How can I contact Planty?
You can reach Planty via email at hello@planty.uk.
Planty Reviews
Planty has a 4.8 rating among 363 reviews on Trustpilot. Customers love the quality of the plant-based meals, the generous servings and good flavours. The company also offers quick deliveries.

Similar deals to Planty

ODDBOX
£10 off your 1st and 4th box

GRUBBY
Exclusive 50% off your first week