How to use your Heatable discount code
To get your Heatable code, click on the 'Get Code' button on the right. Make note of the code from the pop-up window and continue to the Heatable discount code.
Enter your postcode in the empty box provided and click on the 'Fix my price' button next to it. Select the fuel which heats your home, as well as the type of heating system that you have. Select whether you'd want your new boiler in a different location and the type of home you have.
Compare fixed quotes on new boilers and choose the one that suits you. Click on the 'More Details' button on the right to read more about the quote, or 'Pick Install Date'. Choose one of the available dates from the calendar and click on the 'Secure This Date' button below.
Select the type of thermostat you'd want and click on the 'Next' button below.
Choose how you'd want to pay (by card or spread the cost with a monthly payment plan) and enter all of the required payment details.
Once you complete your application, you should call up or email Heatable and quote the voucher code you've got.
More boiler purchase brands similar to Heatable
About Heatable
Heatable was founded in 2017 by two brothers, Sam and Ben, who had thought that the heating industry was unfair and agreed to fix it. Sam built the Heatable's platform and now manages the development team, while Ben managed the installation of boilers and is now in charge of the installing network and quality team. With Heatable, you'll get from freezing to heating within 24 hours! They've partnered with Worcester. Viessmann and Ideal boilers to provide some of the top products at the best possible rate.
How does it work?
All you have to do is answer some simple questions, pick your price and boiler, select your install date, and pay. Your Gas Safe installer will call you, they'll bring the boiler and all of the necessary things with them, and install the boiler.
Heatable reviews
98% of reviewers on reviews.io recommend Heatable. With over 1,200 customer reviews, it has an amazing 4.92/5 star rating. Based on 649 customer reviews, on Trustpilot, it has a TrustScore of 4.8/5 stars and is rated as excellent.
Deal Terms
Only one voucher claim per boiler installation
E-voucher will be sent to the email address from the boiler installation order
Vouchers cannot be exchanged for goods, services or cash back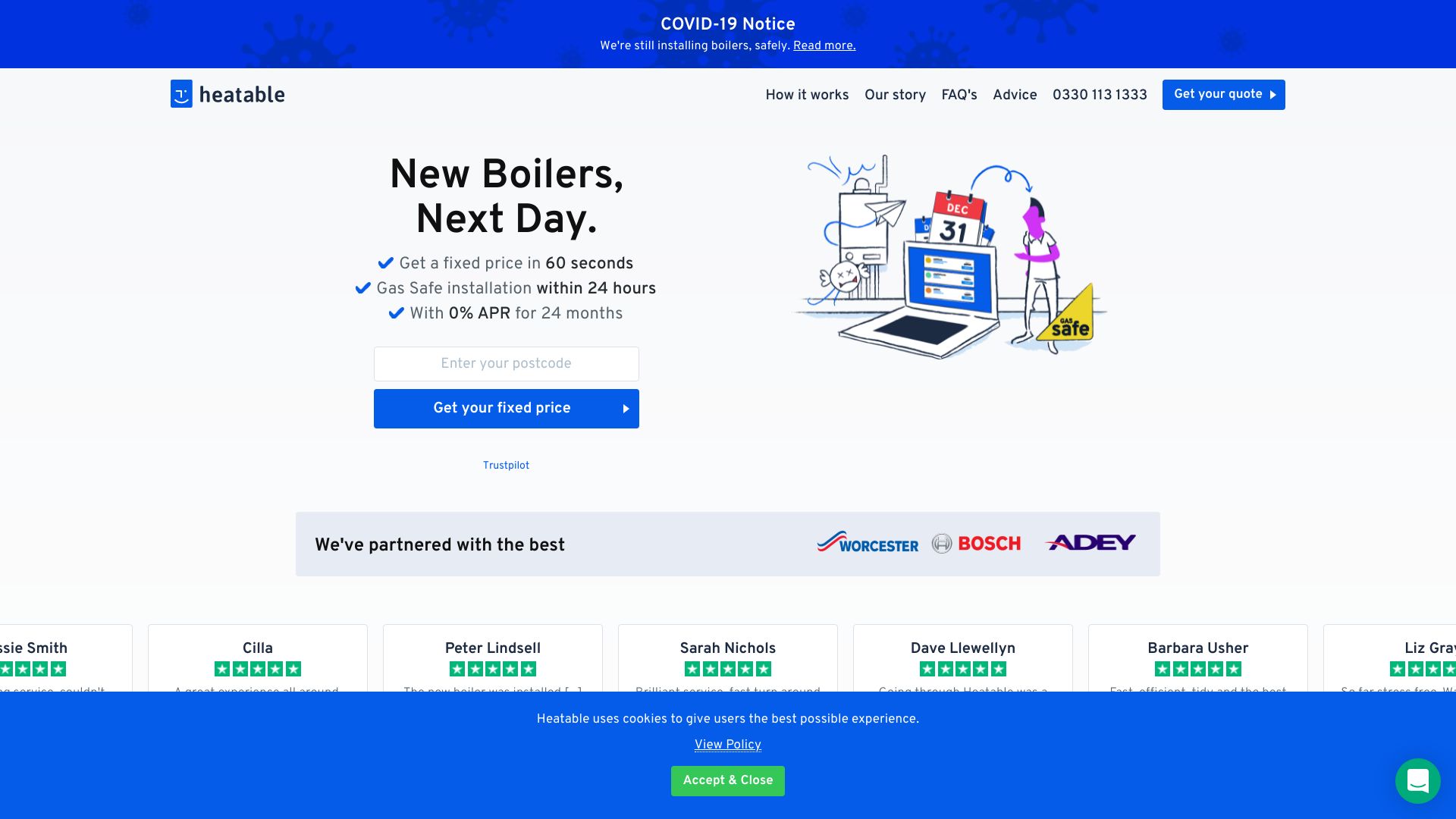 Similar deals to Heatable