Looking for other flower discounts? With our exclusive Bloom & Wild discount code, you'll get 25% off your first order, and 15% off your next order if you already have an account. Or check out the Bunches discount, and get 15% off your order, as well as the FREE UK delivery on all orders.
How to get your Clare Florist discount
To get your discount code, you should first click on the 'Get Code' button. Once your discount code appears, copy it, and go to the Clare Florist website.
Find a flower bouquet suitable for the occasion, click on it, and click on the 'Add to Basket' button next to it.
Choose any of the product extras available below, and click 'Continue'. Choose one of the free cards and add a personal message or choose a handwritten custom card for the extra fee. Continue to delivery.
Enter the delivery address, and click on the 'Choose delivery slot' button below. Choose the delivery date and time, and place your order.
Review the items in your basket, and enter the discount code before you continue to checkout. You'll see the discount code box below your order's summary. Sign in or continue to billing to finish your order.
More flowers brands similar to Clare Florist
About Clare Florist
Clare Florist offers only the freshest flowers, arranged by its florists to the highest standard. All bouquets are hand-wrapped and delivered in special nutrient-rich hydroponics gel which provides water and nutrients to keep your flowers hydrated whilst in transit to you. 
It all started in August 1978, with a humble fruit and flower shop, but over the years, Clare Florist has grown to be one of the UK's most acclaimed and respected online florist. 
The first online delivery was on July 8th, 1996. During the next 20 years, Clare Florist has been accumulating experience and expertise and established itself as one of the UK's most trusted online florists.
Clare Florist delivers its orders all across the UK mainland. Standard weekday delivery is free, and if you'd want your order delivered on Saturday or even Sunday, you can have it for a small surcharge.
Clare Florist reviews
All the orders are backed by a 100% satisfaction guarantee. With nearly 6000 reviews on Trustpilot, Clare Florist is ranked 9 out of 33 in the category Flower Market, and 62 out of 96 in the category Gift Shop. It has a TrustScore of 4.6/5.
Looking for similar discounts?
Troop Scout offers military discount codes in several different categories, so if you're looking for something similar, make sure you check out our gifts and flowers section. There you'll find some fantastic discounts on chocolates, jewellery, and more. If you're looking for discounts on flowers to send to your loved one, make sure you get your armed forces discounts that will help you save.
Bloom & Wild have a huge range of bouquets and flowers that can be delivered right to your door. Use our Bloom & Wild voucher code to get a massive 25% off your first order.
Our Bunches voucher code will get you 15% off your first order and they also offer flowers delivered free to your door.
Flowercard have a unique range of freshly cut flowers combined with greetings cards and you can get 20% off your order when you use our Flowercard voucher code, or our Blossoming Gifts discount will save you 20% on bouquets ordered from them.
Deal Terms
See the deal provider's website for terms & conditions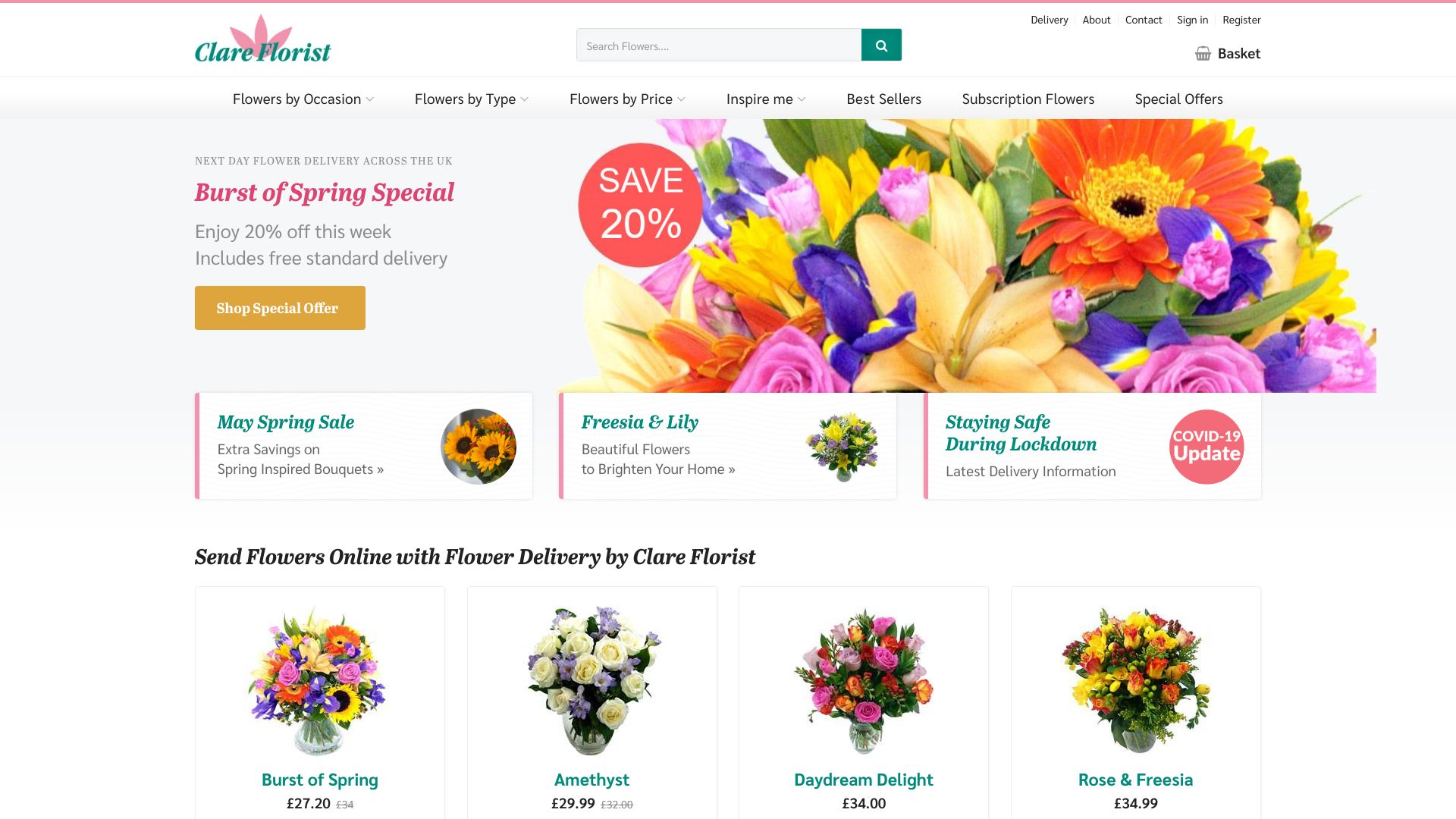 Similar deals to Clare Florist




BUNCHES
Exclusive 15% off all orders + free delivery