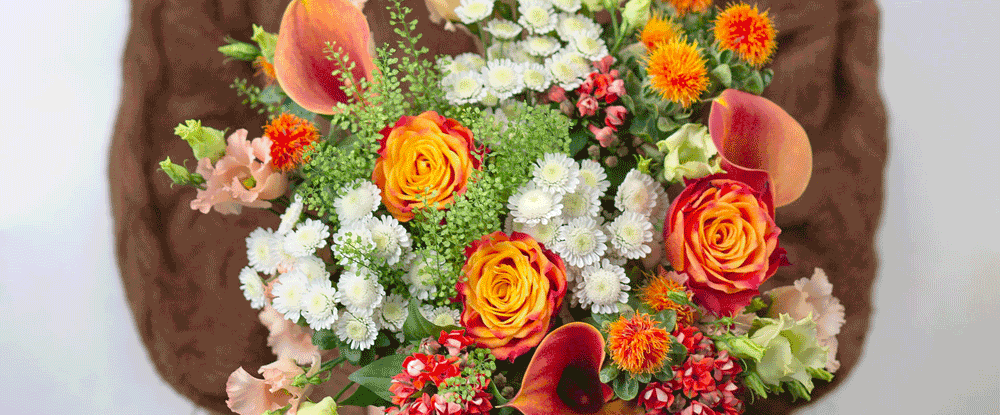 We hope you enjoy 15% off your order with Bunches.co.uk, not to forget FREE UK delivery with all orders!
Thank you all so much for your service and sacrifice.
Related offer: Save 25% off your first order at Bloom and Wild with our exclusive discount code.
How to use your Bunches Promotion Code
Click 'Get Code' to get the voucher code and open the Bunches website.
Select the flowers you'd like, and pick a delivery date and delivery method.
Click 'Place Order' at the bottom of the page.
Pick a Premium card on the next page if you'd like to upgrade from the free personal message card. Otherwise, click 'No Premium Card, Thanks' to continue.
Type a personal message to be printed on the inside right page or leave it blank and click 'Continue'. Click 'Continue to Checkout'.
Once you've reached the basket, type in the TroopScout voucher code in the box provided, labelled 'Add a Promotion'. You'll find this under the shopping basket on the same page.
Once the discount has been applied, either log in if you're already a registered customer or continue on to checkout as a guest by clicking 'Just Checkout'.
Fill in your details and recipient's details, then click 'Continue' to proceed to payment and completion of your purchase.
FREE delivery and chocolates are included with your order!
Scoff free chocolates.
Established in 1989, Bunches is a family-run flower delivery service offering seasonal and celebratory bouquets, not forgetting gift hampers and balloons too. Inspired to expand their small flower business from under an umbrella in Mansfield, they came up with the idea of posting bouquets to homes. From there they began sending out flowers to homes all over the UK with the help of the Post Office, and they've grown phenomenally ever since.
However at Bunches, they want to stand out from the crowd and they believe that every business should also contribute positively to society. Not only do they pride themselves on an efficient personal service delivering beautiful bouquets, Bunches is also committed to donating a percentage of their profits to those in need in the UK and in the developing world where they're actively involved into figuring out where the money goes.
Bunches flowers come from all over the world, many of which are grown in developing countries. Because of this, Bunches strives to source their produce from farms that guarantee their workers a better quality of life and use environmentally friendly and sustainable initiatives.
Get shopping with Bunches today with a healthy conscience! They offer a great range of reasonably priced flowers, bouquets, house plants, balloons and hampers starting from just £14.99.
More flowers brands similar to Bunches
Is there free delivery?
Yes! All of the products that you will find on Bunches include free Royal Mail first class delivery. If you would want to get a tracking link to get delivery information on your order, then you should go for the Royal Mail Tracked 24 service. Besides having a tracking link, with this service you can also get a 95% chance that your order will be delivered on your selected date. If you would want guaranteed delivery on a day of your choice, you should pay an additional £5.99. For guaranteed delivery on a day of your choice and before 1p.m, then you should pay £7.99. All of the delivery packages should be signed by the recipient. If you have entered incorrect details while placing the order, Bunches is not responsible for the delaying period, or if the items do not arrive.
Bunches Returns Policy
If you are not satisfied with Bunches services, you can always communicate with their customer service representatives. You can contact them through email, phone, or just fill up the contact form on their website which can be found in the customer service section.
They will usually respond to the requests within one working day. Their customer support team will get back to you as soon as possible while assuring the best service and smooth delivery.
Is there a reward program?
Yes! They have this program called "Posy Points", which is an alternative to earning money while shopping on Bunches! Posy Points are points that you get every time you place an order on Bunches.co.uk. The points that you earn will be placed on your account automatically. You can use the Posy Points when you are placing a new order on Bunches, so the Posy Points will afford you an additional discount on the price. 
The value of 1 point is £0.01 and for every £1 spent on Bunches products, you will get 5 Posy Points. For example, 80 points will get you a discount which is equivalent to 5% cashback! You can use the Posy Points when placing the order in the basket summary section. You can also check your balance on your account every time you want. For getting the points, do not forget that you should register, but the good news is that you will be awarded points even if you are placing a telephone order.
Is there an "affiliate" program?
Yes. There is a Bunches affiliate program that is great. You can join the Bunches program and become an affiliate to earn up to 10% commission. Bunches flower gifts prices start from £16 with included free delivery, and you can take part in this program by helping them to sell more, so you can also earn more money. They have already delivered more than 6 million gifts across the United Kingdom, and if you would want to join them and earn commission on the full price, just sign up on their website and start working as their affiliate.
Which methods can I use to pay for my Bunches order?
They accept a lot of debit and credit cards from around the world. Visa, Mastercard, Delta, Solo, American Express, JCB, and many more. They also accept payment by PayPal. In the payment section just select the PayPal option when asked to choose a card type. 
The payment is always secure and encrypted using SSL. So, you do not have to worry about anything, your task is just to choose your favorite product and pay for it online while getting free delivery!
Can I add extra gifts to my flower arrangement?
Yes, you can add an extra gift to your blooms! When placing the order, you can choose from a variety of extras, such as Belgian chocolates, divine chocolates, macarons, truffles, lollipops, prosecco. You can also buy a happy birthday scented candle to enrich the experience of the birthday surprise! 
You can also add a message card to the present. The personalized message can be written on a standard greetings card that you get completely free, or you can write the message on an upgraded card which is £1.99. The card would be added to your flower box. If you want to reveal your name on the card, you can do it. Otherwise, the gift would be completely anonymous. The message should be written in ten lines, each of them with a maximum of 28 characters.
Is there an option for Monthly flower gifts or corporate flowers?
Yes, there are offers for monthly or corporate flower gifts. If you would like to send someone a monthly flower gift on a selected delivery date with a personalized message, then just go for this option. The funds would be taken from your account 4 working days before the next bouquet is delivered. You will receive an email confirmation once the payment is made. When using this option, you can not add extra gifts to your monthly bouquets, and you can not use promotional and discount codes when purchasing them.
If you would like to surprise your loyal customers, to reward your employees, or to show some caring attention to your existing clients, you should go for the option "corporate flowers". By using it, you can get up to a 15% corporate discount, different types of flower sets, plants, and other gifts. Along with the flower gifts, you can add a personalized message card. Plus, there is free delivery across the United Kingdom! So, you will receive great discounts and the best packaging at affordable prices, and the recipients will be sure that you are good at taking care of them, whether you are a partner or employer.  
If you do not have a corporate account, then you can email/call them or contact them through the contact form on their website!
For which occasions I can order flower gifts?
They have the perfect flower gift no matter the occasion. If you have an anniversary coming, or your closest ones are having their special date, on Bunches there are a lot of beautiful flower sets to choose from! Also, if you are invited to a birthday party, there are many choices of fresh flowers on their website. There are flower sets for every occasion that you could attend to. For the older ones, there is a great selection of flowers suitable for retirement. If you have done something wrong, then you should know that flowers are the best way to say sorry! If you have not done anything wrong, but you still want to surprise someone, then choose the filter "Just Because" and make someone's day!
Do Bunches have good customer support?
Yes! Their customer support team is pretty amazing. They aim to make the dispatching and delivery process smooth to be sure that all the flowers are delivered in a good condition and undamaged. If you have some complaint about their service, you can reach them by phone or you can just email them and be sure that your case will be resolved for a maximum of 3 working days. If you would like to unsubscribe from their newsletters, you can do so by emailing them with the request or simply clicking on the unsubscribe button at the bottom of the email you have received from Bunches. 
Do I need an account to place an order on Bunches?
No! You do not need to register on Bunches to place an order. There is an option to "just checkout". You need to create an account if you want to see your order history or to save your delivery addresses. You can also make an order for any date you want, so you are always prepared in advance for your special dates! In the checkout section, you just need to choose an available delivery date on the calendar shown. Your order will be saved along with the delivery date. Be informed that if you are traveling internationally, and you want to buy some flowers on Bunches, you can do that online with most of the debit and credit cards from around the world. Your payment will be made in United Kingdom pounds converted to your currency.
Can I cancel or change an order?
You can cancel and amend an order on Bunches. You just need to contact them on phone or via email. There is no option to do that on the website by yourself. 
Otherwise, if your order has been successful, you will get a confirmation email with your order details and order number.
How should I care for Bunches flowers?
After you have received your blooms from Bunches, you should keep them fresh and "tall". Along with your order, you will receive a sachet of flower food so you can keep your flowers blooming longer and stronger. Also, do not forget to put them in a clean vase and pour them with lukewarm water! Do not let them stay in too hot or cold rooms. On Bunches website you can find a lot of advice on how to keep your flowers fresh and how to extend their vase life. There is different advice for different kinds of stems.
How should I care for my house plant?
If you purchased a house plant and you want to keep it growing for years, do not forget to take care of it! Firstly, be aware of the plant's natural habitat when choosing the perfect spot in your home. Your plant would need a perfect combination of sun and air to keep growing. Some plants need more direct sunlight, others need more dry spaces. Note that the lungs of the plant are their leaves. Keep them clean, wipe the dust away and be sure that you remove the browning leaves so they show new ones. Give them water regularly, but make sure when is the right time to do that. Check Bunches website for more advice on how to keep your plants healthy and fresh depending on their type.
Do they have some kind of restrictions due to Covid 19 pandemic?
There is a special section on their website dedicated to the Covid 19 pandemic. In that section, you can see the latest news for the delivery process. If you want to deliver happiness in this time of a pandemic, you can do that through Bunches. They are always long-term collaborating with flower farms and couriers that allow them to source the most beautiful blooms even in these uncertain times. 
When it comes to the delivery date, if you want your gift to be delivered on a certain date, then you should select it a few days earlier. Restrictions to the number of delivered gifts are being set because Bunches is striving to keep Bunches employees safe and to limit social contact. Also, there is no free delivery on Mondays. There are some restrictions to the production facility on weekends, so on Mondays, the number of deliveries is limited. The dispatching of gifts from Bunches Headquarters is just as usual, but their delivering partners are experiencing increased demand so please allow an additional 2 working days. The additional cleaning staff is employed and additional safety measures are being set on the equipment. 
While delivering the order, the Royal Mail and DPD are setting measures as a preventive to minimize contact when handling the order. If you have some troubles regarding the service, please be informed that their customer support team is working in the office with strict measures so they can assist you anytime you need some help. You can reach them by phone, or just message them via email or live chat. They would be glad to assist you in solving the problem. 
What would complement a Bunches flower set?
If you already have purchased Bunches flowers, and you want to buy more flowers or plants, then you should go and see Bloombox Club deals and get one of their three plant subscription plans. Bloombox Club is a plant business that offers subscription plans on a monthly or annual basis. They also have free delivery for plant subscriptions across the United Kingdom.
Bunches Reviews
There are a lot of positive reviews all across the different platforms for reviewing businesses. For example, on TrustPilot they have more than 7.000 reviews. Most of them (more exactly, 81%) are confirming that Bunches' services are excellent! Many customers are satisfied with their amazing flowers, prices, and prompt customer support. More than 7% have claimed that Bunches orders are great and are well worth the amount paid for them. They are satisfied with the responsiveness of the website and the ease of placing an order.
Also, on the website Reviews.io, more than 92% of Bunches' customers recommend their flower sets and services. They are satisfied with the fast delivery process which is at a high level and the queries that their customer support center resolve as soon as possible. Comments also say that Bunches flowers are the prettiest flowers among all. The consistency of freshness is still the same after a few days, so they are pleased to order from Bunches. 
Some of the things that are usually mentioned are that Bunches flowers are delivered in great condition and are very fresh, so your task is just to keep them as you have received them. Do not forget to water them and keep them in a clean vase! 
For the delivery process, some of the customers have noticed that it could be better because some of them have experienced their gifts left outside the door and have not received a note from the delivery team. However, most of the reviews recommend buying flowers on Bunches rather than from any other flower business. The prices are very reasonable and fair compared to the quality of the flowers.
Overall, most of the customers are willing to buy again from Bunches! Bunches has received recommendations all across the different review websites and forums due to their amazing floral creativity. Also, they are striving to meet customers' demands in a time of pandemic and they are doing it pretty well for now, so do not wait and go on their website to make your first order! 
Related Voucher Codes
We can all agree that flowers and gifts are the perfect way to say "thank you", "sorry", or "I am just thinking of you". Everyone likes to be appreciated and surprised with a little attention. If you would want to buy more flowers and to make your day brighter, check out more in our flowers section to get flowers delivered to your door and use amazing discounts when buying your favorite blooms! Also, visit our special gifts & flowers section for more discounts on birthday gifts, bouquets, chocolates, flower cards, etc. 
Bloom & Wild are an online florist who bring beautiful flowers straight to your door by tracked Royal Mail delivery. Right now you can get a 25% discount on your first order from Bloom & Wild, including their popular letterbox flowers and a range of hand-tied bouquets.
If you're looking for something a little different in a floral gift, Flowercard offers hand-picked flowers beautifully arranged in a personalised card. Using our Flowercard discount code, you can get 20% off your next order.
Clare Florist also has a great range of flowers for all occasions, and you can get 12% off your next order when you spend over £30 with our discount code.
Lastly, you can get 20% off all bouquets from Blossoming Gifts, who also offer a wide range of personalised gifts, hampers and potted plants.
Deal Terms
Offer valid on all orders except 'Flowers for a year' and 'Monthly flower gifts' 
Discover the best savings at Bunches with our exclusive discount code savings. Learn more about Bunches below
Bunches Latest Discount Code
Use our latest Bunches voucher, promo, discount and referral codes to save on your next shop at bunches.co.uk.
The partnership team at TroopScout are always hunting out military exclusive discount codes for Bunches to help you get the strongest, well deserved, discount code for you and your family.
How we find the best Bunches discount codes
Our deal hunting specialists spend all day finding a range of great money - saving codes for new customers and current customers alike. Sometimes that are hidden away on social media sites, within emails and on web pages found on bunches.co.uk.Rest assured that our team will do everything we can to help you save time and money with your first purchase or future purchases at Bunches !
Online shops such as Bunches sometimes have a range of promotional codes, voucher codes, free delivery codes, sales, free gifts & referral codes / links if they do – will will make sure to show every money-saving offer that we can find or negotiate.
Use TroopScout to discover the best exclusive savings Bunches has to offer.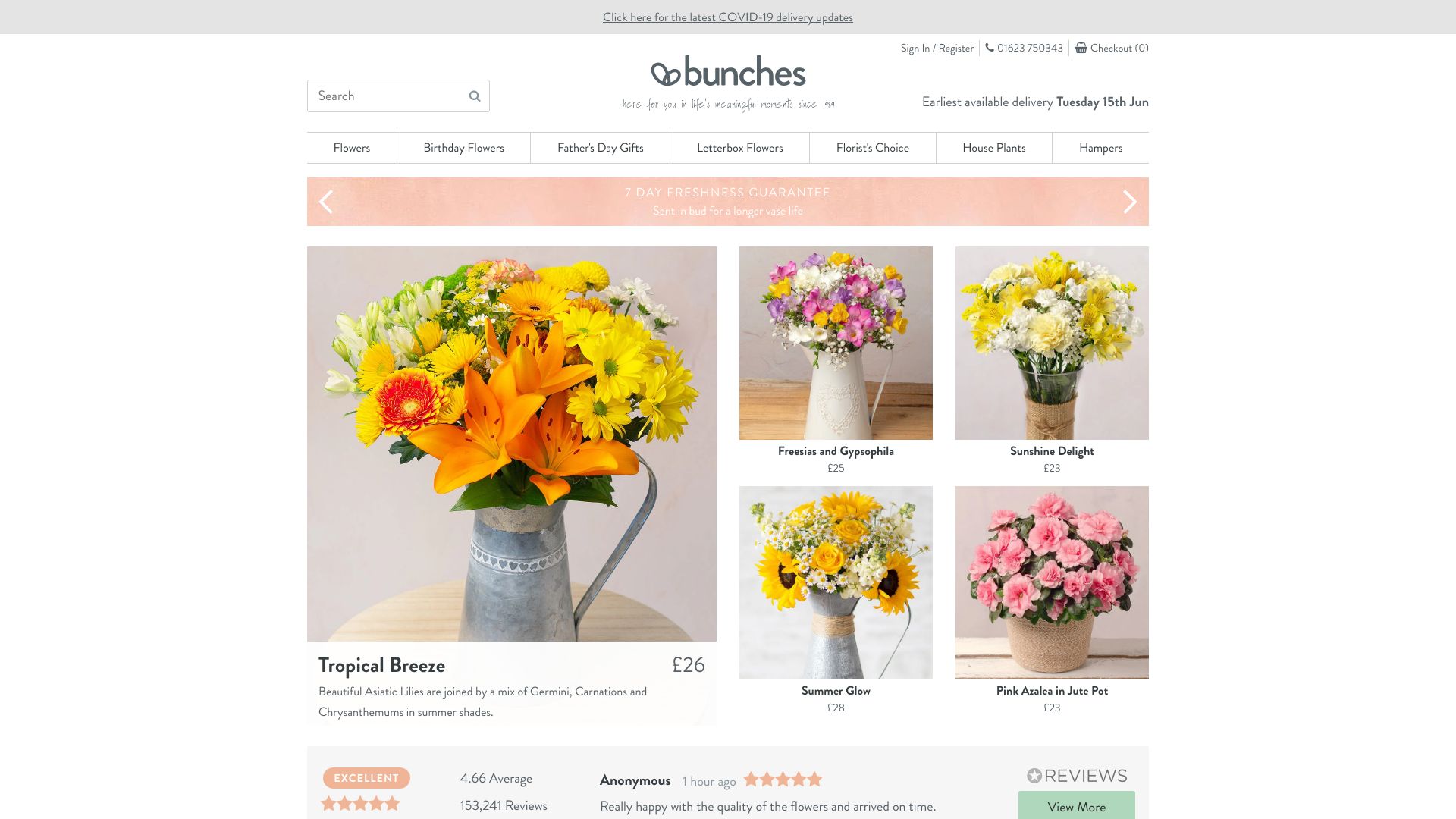 Similar deals to Bunches