In the UK, your child needs to be at least 11 years old before they can have their own bank account. This minimum age can even be higher for some children's accounts.
In this age, it's increasingly important that we introduce our children to financial education as early as possible. To build good money skills in our kids, we need to trust and empower them.
A kids' prepaid debit card provides a safe environment where young ones can access as much money as you want to give them. This allows them to learn crucial financial lessons through their experiences.
Some of the best prepaid debit cards for kids include RoosterMoney Card, gohenry, HyperJar, Nimbl, Osper, and Revolut Junior. Most of these financial tools work along this basic principle: The parent loads money onto the debit card, and the kids can make withdrawals from ATMs and pay for items using the funds. Typically, there is an app that allows parents to keep an eye on their child's expenditure and set spending rules.
In this article, we'll take a look at the features of the best kids' prepaid debit cards.
RoosterMoney Card.

ROOSTERMONEY
Exclusive 1 month free trial + £5 pocket money bonus
Pocket money & chores made fun, easy & educational
RoosterMoney was launched in 2016, and it is aimed at children as young as four years and no older than 18 years of age. Keep in mind that to receive the prepaid visa debit card, your child needs to be at least six years old.
An annual subscription of RoosterMoney for one child costs £24.99. If you'd like to set up accounts for other children in the same family you'll pay an annual fee of £19.99 per child.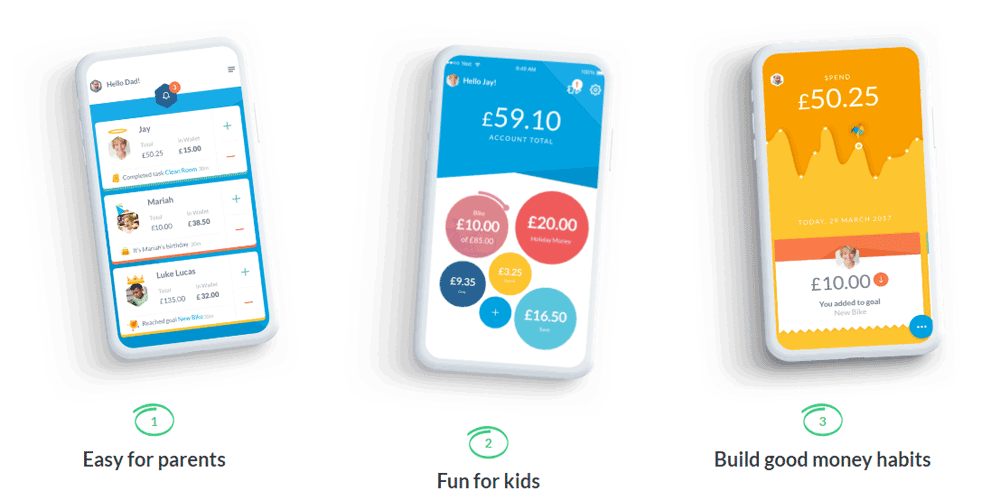 Parents can load money to the visa debit card and regulate their kids spending using the RoosterMoney app. The children will be able to make purchases using the card and free ATM withdrawals in the UK.
One of the unique features of this financial tool is the 'chore management system' that allows kids to earn stars for small chores that they've completed. Parents can then reward them in cash once they've accumulated enough stars.
If RoosterMoney takes your fancy, don't forget the Troopscout exclusive RoosterMoney discount code available, providing you with one month free of charge plus £5 free pocket money!
gohenry.

GOHENRY
Exclusive 2 months free when you sign up
Making every kid good with money
gohenry was launched in the UK in 2012, and it caters to children aged 6 to 18. It provides them with a prepaid visa card, and a corresponding app that features unique parental controls.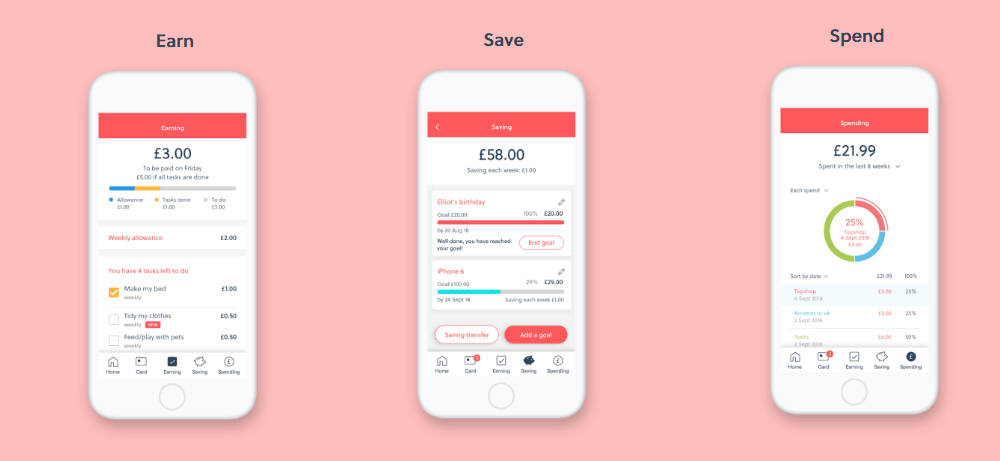 This financial tool comprises a set of a parent and child account, with the parent account performing the control functions. To get started, you'll need to top up the balance in your parent account via bank wire, standing order, or debit card. You can then load money onto your child's gohenry account, and set limits on how they spend these funds. A huge perk with kids' prepaid debit card is that there are no transactional fees for both purchases and ATM withdrawals.
To use this service, you'll need to pay a monthly fee of £2.99 per child. You can, however, take advantage of our exclusive GoHenry deal and try the service free of charge for a period of two months.
HyperJar.

HyperJar is a newer money management app, having been launched in October 2020. This financial tool caters to children as young as 6, and no older than 17.
The distinguishing factor between HyperJar and other kids' prepaid debit cards is that this service is completely free. You'll not be charged for a subscription, for the card, or for top-ups. There are also zero foreign exchange fees with HyperJar.

All you need to do to get started on HyperJar is to create an account and add your kids. The HyperJar team will then send them their free debit Mastercards that they can now use anywhere that accepts debit and credit cards.
One of the major aims of this service is to teach children how to budget. The parent can accomplish this by setting up different jars for their children, with each jar serving a distinct purpose. For instance, you can set up a jar for grocery shopping, another for savings, and a jar for bills.
HyperJar has one glaring drawback. At the moment, kids cannot withdraw funds from ATMs using their HyperJar cards.
Nimbl.
Founded by ParentPay group, Nimble is a parent-managed, prepaid debit card and app designed for young people between the ages of 6 and 18 years.
Nimbl costs £2.49 per month for each card. However, you can try this financial tool for free for a period of one month. This will help you determine whether the service is an ideal fit for you without committing any funds.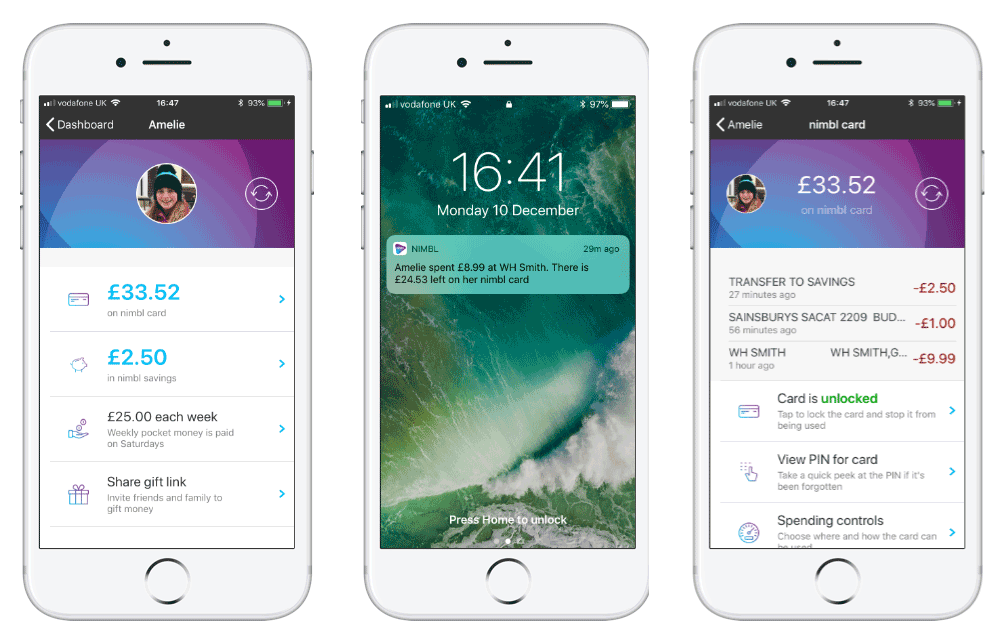 A huge upside of Nimbl is that there are no transaction fees for top-ups, card purchases, and ATM withdrawals in the UK. However, you'll be charged a flat fee of £1.50 when withdrawing cash abroad, and a 2.95% fee when making purchases overseas.
Parents can utilise the app to keep an eye on their child's spending through real-time alerts whenever the card is used.
Osper

OSPER
1 month FREE trial + custom card
Turns pocket money into life lessons
Osper is a prepaid debit card and mobile banking service designed for 8 - 18-year olds. It provides a safe environment where young people can acquire crucial financial education through their pocket money.
This service will cost you £2.50 per month, for each child with an Osper account. You can however take advantage of their introductory offer and try Osper free of charge for a duration of 1 month.
The Osper app allows the parent to top up their child's balance and stay on top of their spending. You can freeze the card, block specific retailers, and get notifications whenever the card is used.
One of the unique features of Osper is the opportunity to earn cashback when you shop via KidStart website. You can choose from a selection of over 2300 retailers on this site.
Revolut Junior.

REVOLUT
Junior account free trial
One app for all things money
Parents with a Revolut bank account can set up a junior account for their kids aged 7 - 17 years. You can then load money to the Revolut Junior account, which your child can access through the accompanying Visa debit card.
The Revolut Junior app allows the adult to set spending limits, and decide where the card can and can't be used. Kids can keep an eye on their expenditure, savings, and balance through this app.
There is no monthly subscription fee with Revolut Junior. The transactional fees are dependent on the tier of the Parent's Revolut account. However, with ATM withdrawals, kids will not be charged for the initial £40 withdrawn from the account each month. After this, a 2% withdrawal fee will be levied.