If you're looking for more discounts on similar products and services, you should take a look at KBK Kettle Bell Kitchen and Bargain Foods. Use our exclusive KBK discount code to save 35% + 5% on its health-conscious food delivered right to your door, or use our Bargain Foods discount code to save 10% on thousands of different products available on the Bargain Foods website.
How to use your The Sausage Man coupon code
To reveal your The Sausage Man coupon code, click on the 'Get Code' button located on the right side. Copy the code from a pop-up window and continue to The Sausage Man website.
Click on a product you'd want to purchase, change quantity if you'd want to order more than one piece, and click on the 'Add to Basket' button next to it. Once the product was added to your basket, you can continue with your purchase or click on the 'View Basket' button to review your order.
Review your order. Paste your The Sausage Man coupon code to the empty box below the product in your basket and click on the 'Apply Coupon or Gift Card Code'. Once your coupon code is applied, click on the 'Proceed to Checkout' button below your basket totals.
Enter your billing details, change the shipping address if needed, and select one of the available payment methods below. Agree to the website terms and conditions and proceed with your payment.
More meat brands similar to The Sausage Man
About The Sausage Man
The Sausage Man is the leading wholesaler and importer of German Sausages in the UK. It was established in 2005. Today it imports over 7 million sausages per year and works with the best sausage producers in Germany. All sausages, excluding the Vegan Hot Dog, are gluten-free. All of its sausage products are pre-cooked and most of them can be frozen. It offers not only sausages and hot dogs but some ready meals, as well. The Sausage Man also provides solutions for restaurants and caterers.
The Sausage Man delivery
The Sausage Man delivers its orders to mainland UK (excluding some parts of the Scottish Highlands). There's no minimum order value. For orders under £17.50, you'll be charged £9.90, for orders over £17.50 but under £35.00 you'll be charged £7.50. Orders over £35.00 and under £65.00 are delivered for £4.95, while orders over £65.00 are delivered free of charge. Place your order Monday to Thursday by 2 pm for the next day delivery by 1 pm. Orders placed on Friday by 12 pm can be delivered on Saturday by 1 pm with a £3.95 surcharge.
The Sausage Man reviews
Based on over 3,200 customer reviews on Trustpilot, The Sausage Man has a TrustScore of 4.9/5 stars and is rated as excellent.  
Deal Terms
Discount on first order only.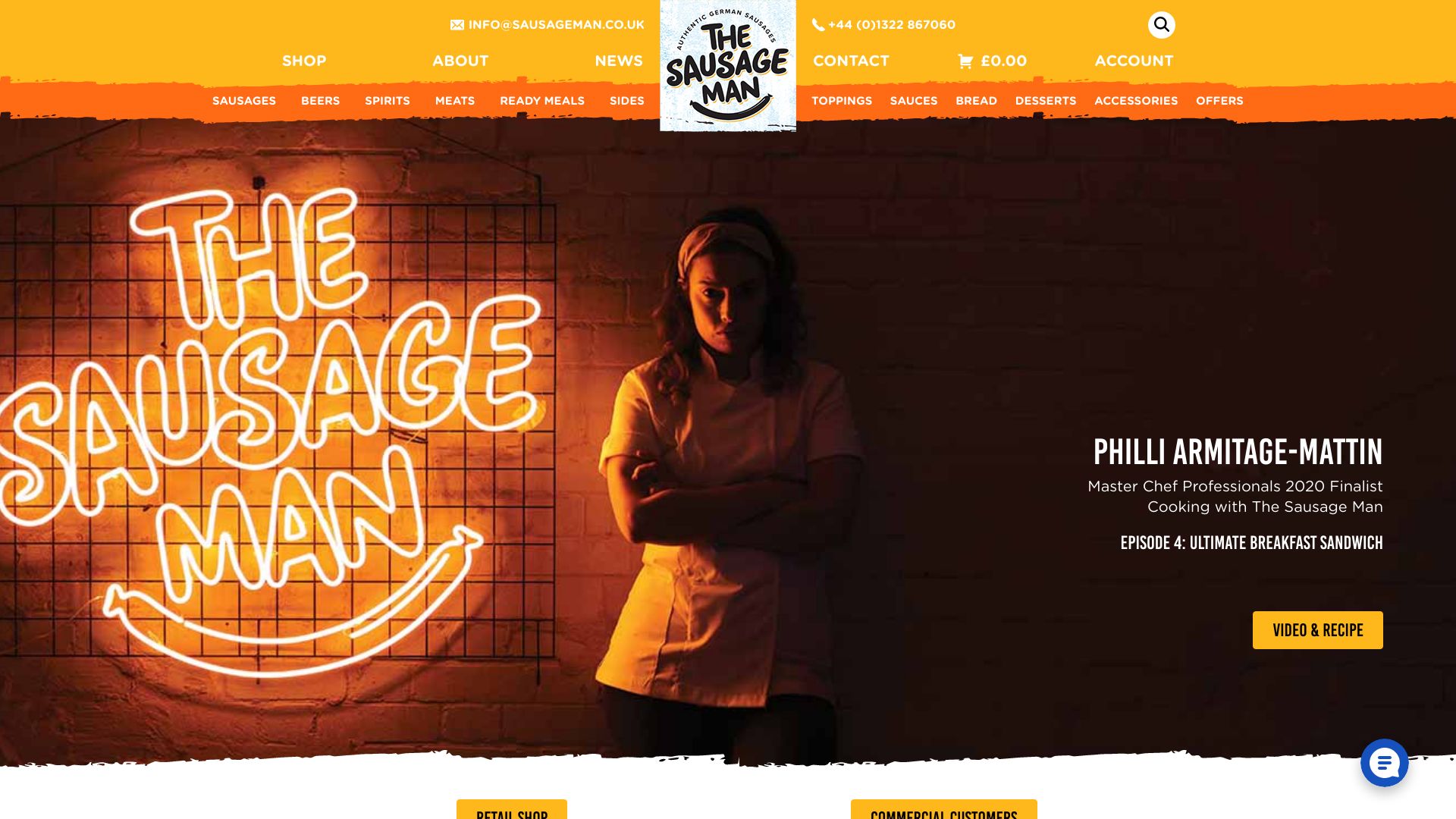 Similar deals to The Sausage Man