Spices, pastes & recipe cards
Tired of cooking the same old dishes and looking for a bit of inspiration? A meal kit service may just be what you're looking for!
In this Simply Cook Review, we'll take a look at everything from price to recipes to help you reach an informed decision.
What is Simply Cook?
Simply cook is a recipe kit company with a twist. Unlike other meal kits, such as Gousto, HelloFresh, and Green Chef, Simply Cook does not deliver all the fresh ingredients needed in preparing their recipes.
Instead, this UK-based company will send you the recipe cards, culinary pastes, garnishes, herb/spice blends, and any other seasonings that you may require for their global cuisines.
How much does Simply Cook cost?
A box consisting of 4 recipe kits will cost you £9.99. Of course, you'll still need to purchase ingredients to transform the recipes into meals on your table. However, Simply Cook estimates that their recipes typically cost £3 - £6 per person, per meal. Don't forget, for all Troopscout users, you can claim your first Simply Cook box for a discounted price of just £1!
For your first order, you'll receive a discounted trial box at just £1- £3. You can take advantage of this offer to determine whether this recipe kit service is ideal for you.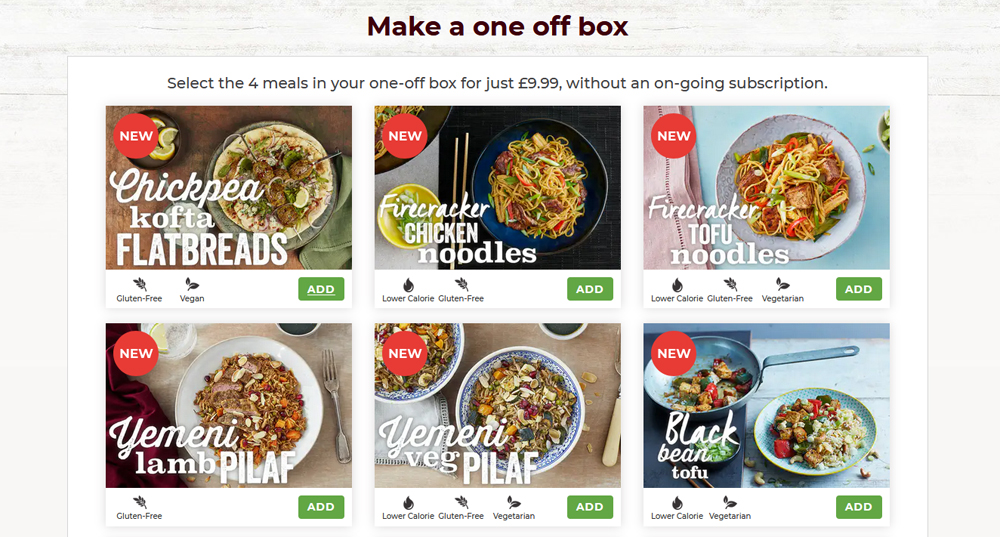 Simply Cook Recipes.
Simply Cook offers a highly diversified recipe list, with meals designed to cater for different dietary restrictions, tastes and preferences. You can choose from over 140 global cuisines with the varied options including British, Italian, Mexican, Indian, Korean, Chinese, African, Japanese, Middle Eastern, and Portuguese dishes.
You can use filters to quickly sift through the recipe list and identify meals that you're bound to love. These filters include spiciness levels, dish size, main ingredients, and allergens. This meal kit company also offers low calorie cuisines, around 40 vegetarian dishes, and 15 vegan recipes.
Simply Cook recipes are all very straightforward, with no complex techniques involved. Most of the dishes are ready within 20 minutes. This is highly convenient as it allows even busy individuals to skip the same repetitive meals and explore a range of new cuisines.
Some Simply Cook recipes can serve 2 people while others are created for 2 - 4 individuals, depending on serving sizes. If you're alone, you can easily cook for one and save some leftovers for later. Conversely, if you're cooking for a slightly larger family, you can add a few more fresh ingredients to feed everyone.
What are the delivery options?
Once you've completed your purchase, your recipe kit will be delivered by Royal Mail within four working days. Your items will be neatly packed in a compact box that can fit through most standard letterboxes.
Simply Cook currently delivers to the whole of the UK.
What you'll love about Simply Cook.
There are more than 140 recipe kits to choose from, with over 50 being meat free. This makes Simply Cook a fantastic option, even for people looking to lower or completely eliminate meat from their diet.
One of the perks of not receiving fresh ingredients is the extended shelf life of Simply Cook kits. You can choose to prepare the recipes immediately, or wait for a day, a week, or even a month.
Simply Cook boxes are very compact, and they can fit through your letterbox. This means that deliveries can be completed even when no one is home.
Another upside with this recipe kit service is the flexibility it offers. You can opt to receive a box on a weekly basis, fortnightly, monthly, or every 6 weeks. You can also amend, pause, or cancel your subscription at any time.
What you need to watch out for.
With this Simply Cook, you'll still need to purchase your weekly groceries. Grocery trips can be time consuming and an inconvenience.
What others have to say.
Simply Cook has garnered mostly positive reviews online. The recipe kit service has accumulated over 8,500 reviews on TrustPilot, with an excellent 4.6 star rating. Customers are impressed with the flavourful pastes and seasonings, the quick and tasty recipes, and the affordability of the kit. However, some customers have complained of their subscriptions renewing without their knowledge.
Simply Cook Review - Verdict.
Simply Cook is overall a solid recipe kit service. If you're always busy, but you'd like to explore diverse cuisines and make mealtime fun and special, then this is the service for you. Their recipes are delicious and easy to prepare, and their pastes and seasonings are simply exceptional.
However, if you're looking for a complete cooking solution, recipe box services such as HelloFresh and Gousto may be more suitable for you.