50% off first box + 30% off first month

This better than half price discount is valid for military service members, ex-forces, family and friends!
With Gousto, you choose individual recipes from top chefs and get ingredients in the right proportions delivered straight to your door!
Quality: British farm meat. Organic vegetables. No additives.
Price: FREE delivery. No wastage. Cheaper than supermarkets.
Time: No planning. No shopping. No measuring.
Thank you for your service! - Team Gousto
note: The Gousto web site will automatically add the 65% discount code for a first time users.
How to get your Gousto discount
1. Click 'Get Deal' to open the Gousto site.
2. Add your recipes to the basket.
3. Your voucher code is automatically added and the discount applied to your basket at checkout.
More recipe boxes brands similar to Gousto
About Gousto
Gousto is an award winning ingredient delivery website that was raved about on popular BBC show Dragon's Den.
Gousto's customers can choose from 10 online recipes, selecting how many people they are to be cooked for each week.
Recipes are created by a team of talented chefs and include everything from exotic foods, to homely comfort foods, ensuring there is something everyone will enjoy.
Once your recipes have been picked, Gousto will send you all the ingredients needed in exact proportions.
Along with the ingredients, you will receive easy to follow recipe cards.
Gousto quality
All the ingredients are the highest quality locally sourced products including all organic vegetables and high welfare British meat. To ensure the highest quality ingredients and make sure all products are in compliance with environmental health regulations Gousto staff regularly visit their suppliers and test the food as it comes into season. Most of their products are from South West and East Anglia where some of the founding Gousto team originates from, but their fish mainly comes from Scotland or the South of England.
All recipes are nutritionally balanced, saving time and energy shopping and finding recipes good for you and your family.
To ensure sustainable farming and top quality ingredients Gousto makes sure to check the backgrounds of each of its suppliers.
For some of their international meals it is necessary to have some ingredients shipped to the U.K., such as Japanese miso paste, but they do their best to limit their use as much as possible.
Earn credit with the Gousto refer a friend platform
Once you have signed up and started using Gousto you can refer your friends and family using your unique referral link or code, anyone that orders using this will get a welcome discount and you will get free credit towards your next order.
Deal Terms
Voucher code valid for first time Gousto users only.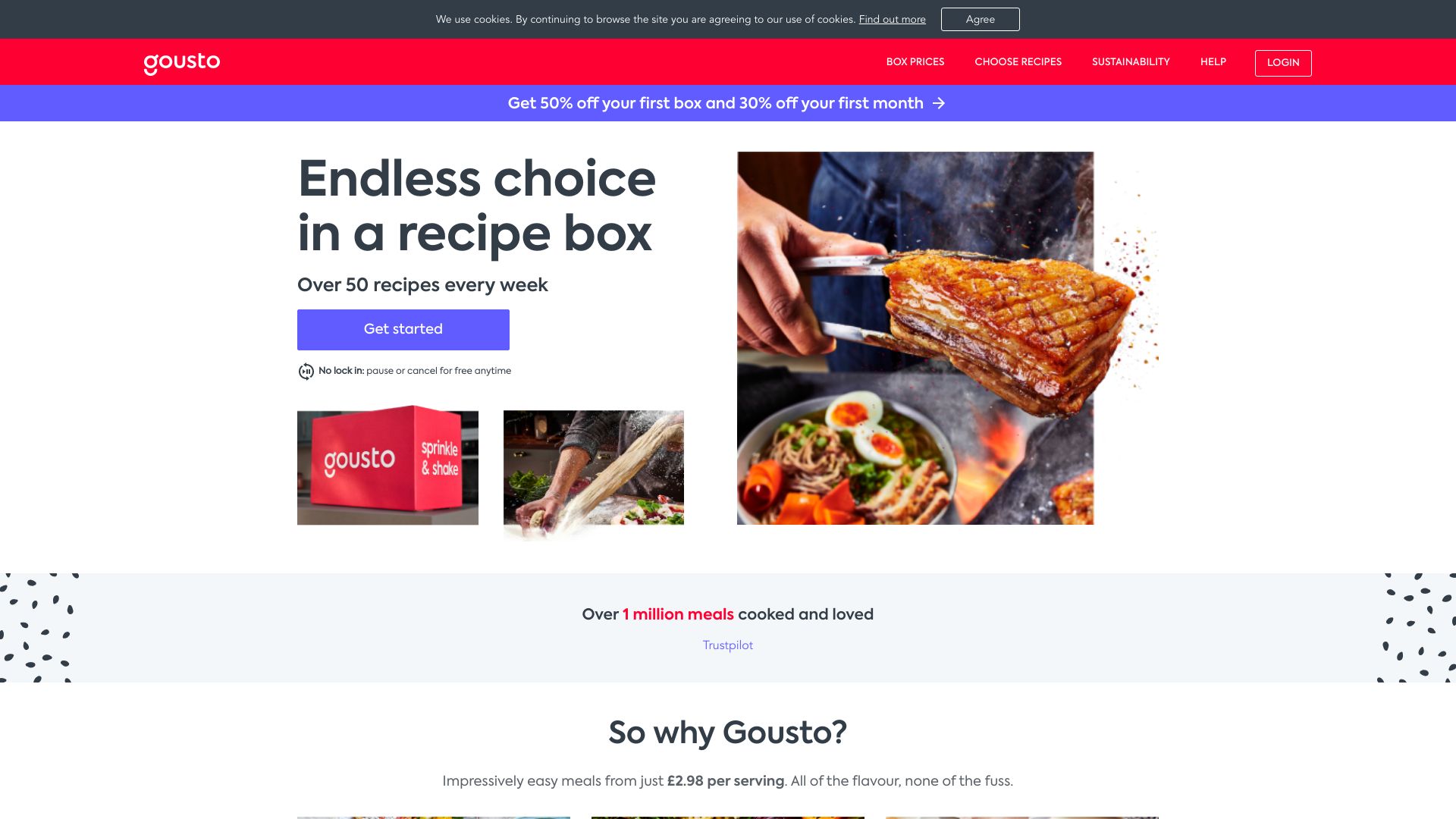 Similar deals to Gousto

GRUBBY
Exclusive 50% off your first week then 30% off next 3 weeks