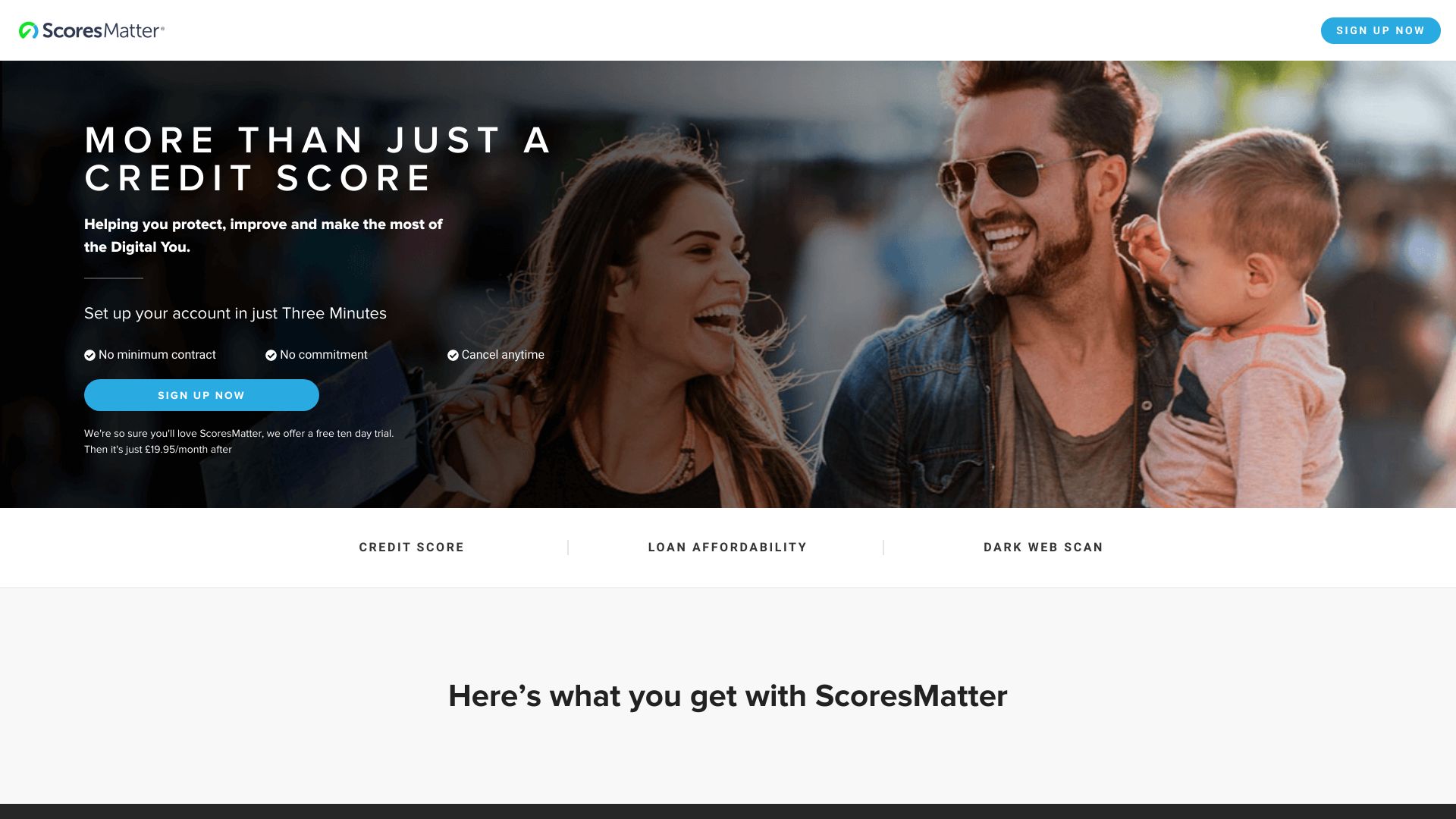 How to claim my free ScoresMatter discount code?
To claim your free discount code, click on the 'Get Code' button located on the right. A new window will pop-up. Copy your ScoresMatter discount code, and continue to the ScoresMatter website.
Click on the 'Get Started Now' button. Enter your personal and contact details, and click on the 'Next Step' button on the right. 
Enter your card details and click on the 'I Agree: Submit' on the right to sign up to ScoresMatter. 
About ScoresMatter
ScoresMatter is a digital identity management service founded in 2011. The company was founded to provide consumers with a suite of tools designed to monitor and analyse their digital footprint. What you do today is tracked, stored, and processed by third parties. All this data makes up your digital footprint and the 'Digital You'. Learn how others are using this data to affect you. You can join for free and unlock your Credit Score and Financial Footprint now. ScoresMatter is a UK-based company, authorised and regulated by the Financial Conduct Authority (FCA).
ScoresMatter FAQs
What can I use ScoresMatter for?
You can use ScoresMatter to monitor how third parties are seeing you, how your scores measure up to others, and how you can improve your digital profile and scores. Watch yourself trend over time and see how your profile and scores evolve as you do. 
How much does ScoresMatter charge for its services?
You can sign up for ScoresMatter free of charge. After 10 days, you'll be charged a monthly fee of just £19.95. You can cancel any time during the 10-day free trial period and you won't be charged anything. 
What happens if there are not enough funds for ScoresMatter to collect my membership fee?
If there are not enough funds for ScoresMatter to collect your membership fee, when it becomes due, continuous payment authority will be used to make up to 15 further attempts over a period of 60 days until payment for the full membership fee for that month has been received. Your access to the service will be suspended.
How should I cancel the continuous payment authority?
You can cancel the continuous payment authority at any time via phone, post, or email. You can also cancel through your bank, however, this may result in a chargeback. If you cancel during the business week, your cancellation takes effect from the date of receipt of the notice, while if your notice is received on a holiday or weekend, your cancellation takes effect from the next business day.
What is the Browser Tool?
The Browser Tool is a browser extension, currently available for Google Chrome and Firefox. You should download the tool so that ScoresMatter can provide you with the service. Your browsing history creates a digital footprint that companies can use to track your behavior and make decisions about what to market to you. This information can also be sold to other businesses so that they can make sure that they are targeting their products and services to the right people. The Browser Tool will show you how you are perceived based upon your browsing history. Your profile will be updated as you browse. Once you no longer want to use the Browser Tool, simply remove it from your browser.
What is the Dark Web Report?
The Dark Web Report will tell you whether your data is currently for sale by criminals who stole it. This report is brought to you by third-party firms, employed by ScoresMatter, and specialised in scanning the dark web. You'll also be informed on how to keep you and your data safe online. During the first month of your membership, you'll receive an initial report, and every following month you'll get monthly alerts, summarising any changes.
What is a credit report?
A credit report is likely held for everyone over 18 who has ever taken out credit. It's a personal history of the credit you've had over the past 6 years, as well as credit cards and mortgages, and even mobile phone contracts. Once you sign up to ScoresMatter, you can find it on the Credit Report page and you can access it as many times you like.
What is a credit score?
A credit score is a number that reflects how likely someone is to make repayments. It's computed based on information contained in your credit report, including your payment history, the amount owed, duration of credit history, recent credit, and additional factors. It's important that you know your credit score since it can save you money as you'll be more likely to get lower interest rates. You shouldn't be in the dark and wait until you need a higher score and there's not much you can do.
What information can I find on the ScoresMatter blog?
ScoresMatter blog features tutorials that will help you manage your microphone privacy, spot cryptocurrency scams, bolster your credit score, and more.
ScoresMatter Customer Reviews
ScoresMatter has more than 1,300 customer reviews on Trustpilot. With a TrustScore of 4.6/5 stars, it's rated as excellent. 
Similar Offers
Looking for more discount codes you can use to save on utilities and finance apps and websites you can use for wealth management, to take a mortgage, or save on your bills? Take a look at Emma, Look After My Bills, and Habito. 
Sign up to Emma, a money management app, with our Emma refer a friend link, and you'll get 5 free bears, or sign up using our Look After My Bills voucher code and get a £10 Amazon gift card. Take your mortgage with our Habito referral link and you'll get £100 in cash.
Similar deals to scoresmatter