How to use your OVO Energy referral link
Click on the ´Get Deal´ button, and follow the link to the OVO Energy referral page. Enter your email address in the empty field, and click on the ´Enter´ button below.
You´ll receive your £75 gift card as soon as you're on supply with OVO Energy. And in order to do that, you should complete quote and switch. Click on the ´Quote & Switch´ button to start.
Enter your postcode and click on the ´Get Quote´ button next to it.
Fill in all the required information, click ´Next´ and choose a tariff that suits your needs. Review your plan, add £5 a month for a green gas or green energy, and click on the ´Switch Now´ button on the right.
Enter your details and click on the ´Next´ button below to proceed to payment.
More green energy brands similar to Ovo Energy
Earn free £75 vouchers with OVO Energy's referral program
Once you have signed up to OVO Energy you can share your refer a friend link with others and invite them to switch, too. For every successful referral, you and the person you referred will both receive a £75 gift card from a choice of M&S, John Lewis or Amazon.co.uk! Get in there!
About OVO Energy
OVO Energy is one of the biggest 100% renewable energy suppliers in the UK. It combines green energy philosophy with ultra-smart technology and affordable prices to create a brighter future for us all. It was founded in September 2009. Today it supplies almost 6m households across the UK.
How green is OVO Energy?
OVO Energy has the green energy and technology you´ll need on your journey to zero carbon. It offers great service, clear information and honesty. With OVO Energy, you´ll not only cut the carbon from your energy, but you´ll also understand your energy and be able to start saving energy and shrinking bills with OVO BeyondBETA. And if your account is in credit, you´ll receive 3-5% Interest Rewards.
OVO Energy awards
OVO Energy is uSwitch Energy Supplier of the Year 2019 and has received numerous other awards as well, including BusinessGreen Technology Awards in 2017 and BusinessGreen Leaders Awards in 2018.
OVO Energy reviews
With nearly 32,000 reviews on Trustpilot, OVO Energy is ranked 17 out of 40 in the category Electric utility company, and 14 out of 36 in the category Gas company. It has a TrustScore of 4.4/5.
Deal Terms
See the deal provider's website for terms & conditions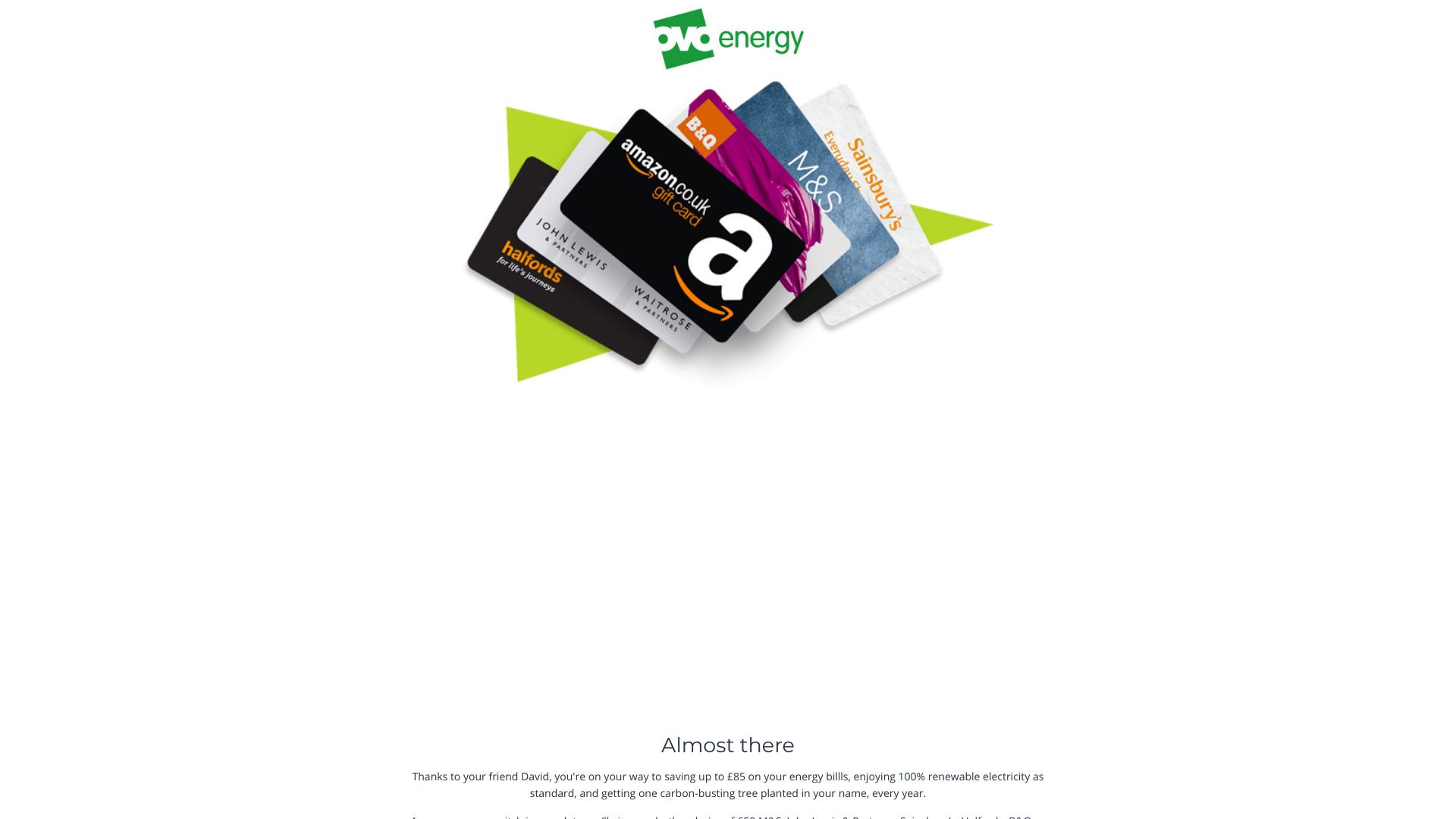 Similar deals to Ovo Energy

BULB ENERGY
£50 free credit + exit fees paid
100% renewable electricity & 100% carbon neutral gas

OCTOPUS ENERGY
£50 free credit when you sign up
Affordable renewable energy