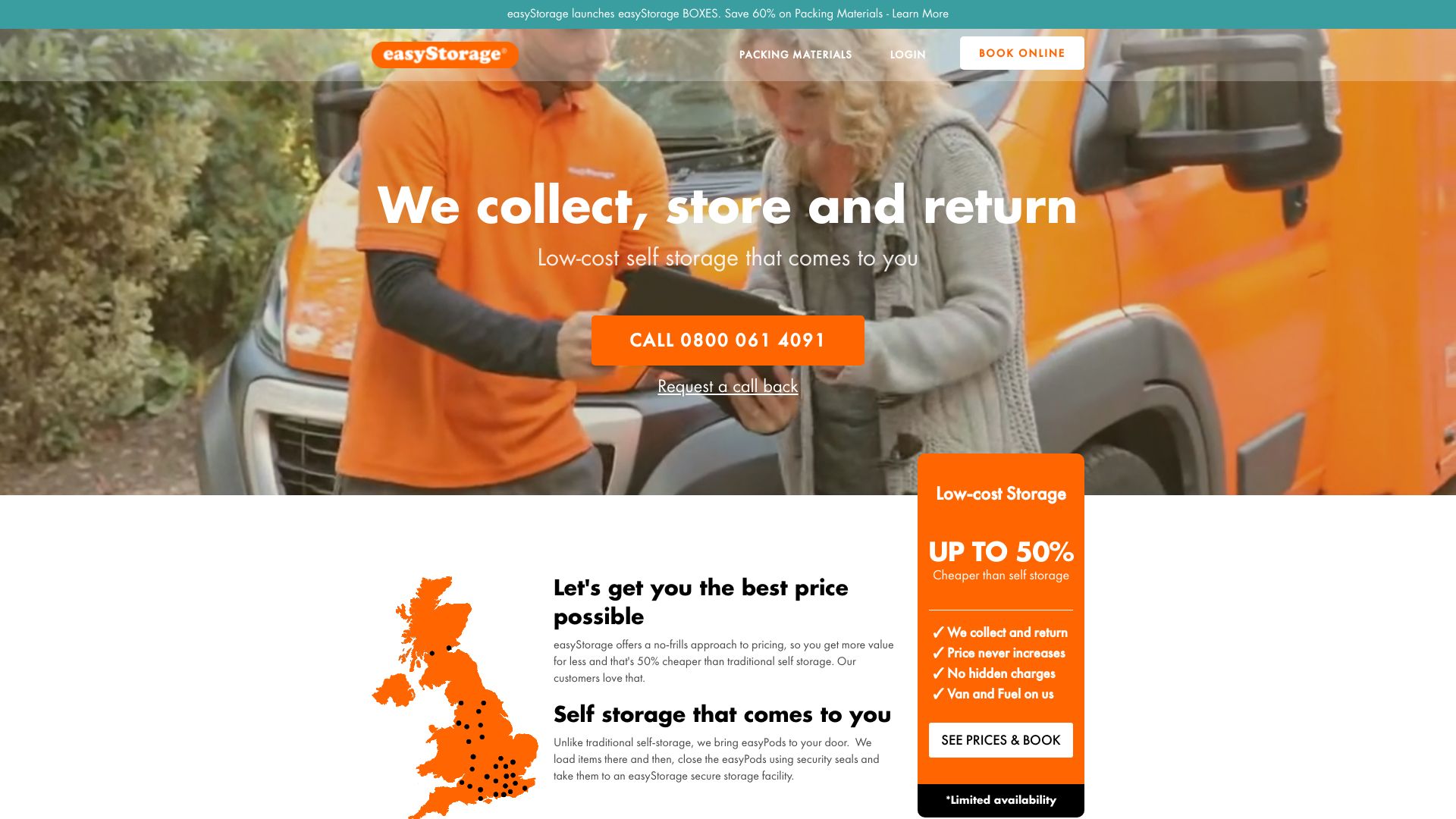 How to claim my free easyStorage promo code?
To claim your free easyStorage promo code, click on the 'Get Code' button you can find on the right. A new window with your code will pop-up. Copy the code and proceed to the easyStorage website.
Click on the 'Book Online' button. Enter your full postcode and click 'Continue'. Select from the available options how much space you need.
Enter your contact and collection details. You can add insurance to your booking or arrange your own insurance. Provide a brief description of what you're storing and click on the 'Continue to checkout' button below.
Click on the 'I have a promo code' on the right and paste your easyStorage promo code into the text box. Click 'Apply'.
Enter your card details on the left and click on the 'Book Now' button below.
We've got a wide range of discount codes in several categories, including furniture for your home and garden.
More self storage brands similar to easyStorage
About easyStorage
easyStorage is a storage company that offers an easy approach to storage across the UK. Your storage unit (easyPod) will come to you. Two (or more) loaders will come to load your things. Once your things are loaded in your easyPod(s), they'll be sent to storage in a secure storage facility. If you want to access your items, all you have to do is log in to your easyStorage account and select the required easyPods.
easyStorage refer a friend programme?
If you're interested in becoming an easyStorage Partner and earning commissions for successful referrals, you can easily sign up online. Once you identify potential customers, submit your leads, and once any of them makes a booking with easyStorage, you'll earn £100, and your customer will get a £25 discount on their first bill.
easyStorage FAQs
What makes easyStorage different?
EasyStorage offers a free van for collection and return. Your inventory will be loaded and secured in sealed storage pods. You can easily access your items and get selected boxes only.
Does easyStorage offer price promise?
If you refer to the easyStorage 'Pricing' page on its website, you'll see a price comparison to traditional self-storage companies. EasyStorage offers the best prices and promises never to raise the price for your storage space as long as your belongings are stored with it.
What is the minimum period I can store things for with easyStorage?
With easyStorage, you can store items for as little as one month.
Will I get a better deal if I prepay for longer?
Yes, with easyStorage payments are made in advance on a monthly basis but you can also prepay for longer (3 or 6 months), and you'll get a better deal. Once your paid plan expires, you can renew it or go back to the monthly plan.
How can I work out how much space I need?
If you're not sure how much space you need, you can refer to the 'Space Guide and Calculator' available on the easyStorage website. Start by adding items to your storage unit and once you're done, click on the 'Calculate' button below. 
Where can I find packaging boxes and moving supplies?
If you need packaging boxes (small, medium, and large), as well as moving supplies (stretch wrap, bubble wrap, tapes, van blankets, and more), you can check the easyStorage Boxes website and order them for a next day delivery across the UK.
What should I do to prepare for a pick-up?
The better you prepare for a pick-up, the less time it'll take and the less you'll pay. To prepare for your easyStorage pickup, you should disassemble furniture and electrical appliances, pack your things tightly in boxes and clearly label them. Loaders can help you disassemble and reassemble your items however if they do this, easyStorage won't be held liable for anything that goes wrong.
Can I get a custom plan? 
If you need more space, you can contact easyStorage via phone or fill out a contact form to discuss your requirements further with one of its fully trained technicians and get a custom quote.
Can I come to storage to view my things?
Yes, you can come to storage and view your stored items. However, you should contact easyStorage at least two clear working days prior so that they can deliver your easyPods to the Customer Viewing area at the nearest storage facility.
What is a Partial Return?
With a Partial Return, you can contact easyStorage to drive your easyPod(s) back to you so you can access your stored items. Once you load and/or unload your items, your easyPods will be returned to easyStorage.
What is the easyStorage cancellation policy?
If you cancel or reschedule your appointment at least two clear working days before, you won't be charged any cancellation fee. However, if you cancel less than two working days prior to your scheduled appointment, you'll be charged a £75 fee. If the cancellation is made on the collection date, you must pay the full booking price.
easyStorage Reviews
With more than 650 unique customer reviews on Trustpilot, easyStorage has a TrustScore of 4.7/5 stars and is rated as excellent. 
Similar Offers
If you're looking for our other similar offers, we can suggest you take a look at Safestore and Compare the Man and Van. With our Safestore discount code, you'll get storage for up to 8 weeks at half price, while our Compare the Man and Van promo code brings you 10% off on its moving services. If you're interested in DIY, check out DIY Direct and use our exclusive DIY Direct voucher code, available to members only, to save 5% on your order.
Terms and Conditions
Minimum of one month storage. 
Offer does not apply for existing customers.
Similar deals to easyStorage