BULB ENERGY
£50 free credit + exit fees paid
100% renewable electricity & 100% carbon neutral gas
Earn up to £50 when you refer a friend to Bulb Energy, the energy company that supplies simpler, greener, and cheaper energy. There is no limit to the amount of friends you can refer, if you can refer two friends per month, once they have successfully switched, you will receive £50 credit (£50 for dual fuel - gas & electricity and £25 for single fuel). Why not set yourself a challenge and try to refer two friends per month for a year, this would give you £1,200 worth of free electricity!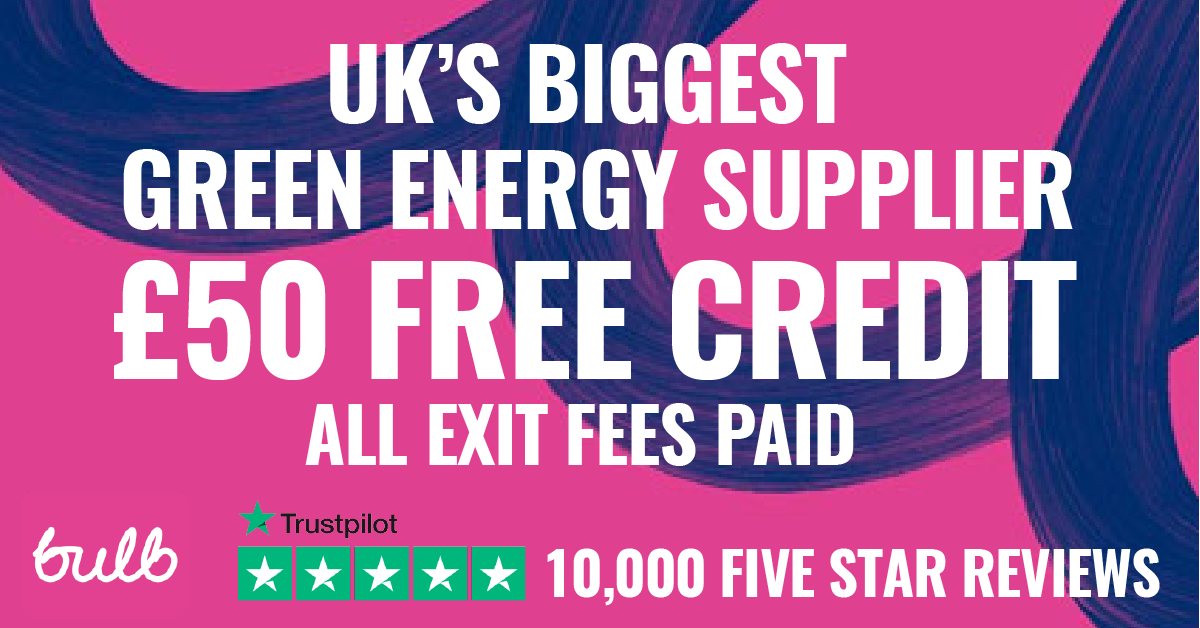 How to claim your free Bulb Energy credit when you refer a friend.
With these simple steps, you can earn up to £50 when you refer a friend to Bulb. Your friend will also earn £50 credit when they switch their electricity and gas to Bulb Energy using your referral link.
If they only switch either their gas, or their electricity to Bulb, you'll both get £25 credit.
1. Log into your Bulb account. (If you don't yet have an account, sign up via our refer a friend link.)
2. From your dashboard, click on 'Give £50, get £50' to see your unique referral link. You can choose to either 'refer a friend' or 'refer a business.'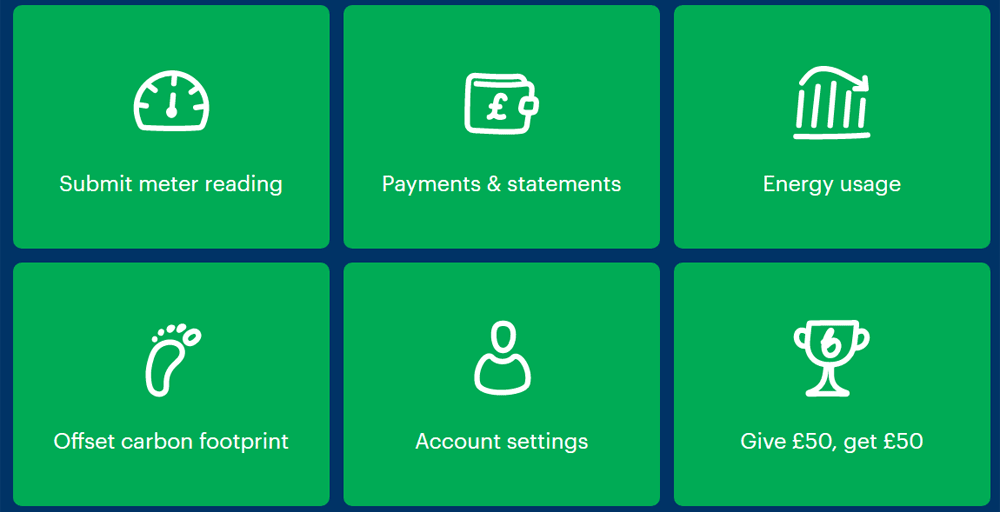 3. Share your link with friends and family via email or social media. You can choose to add in a personalized message when sending out your link.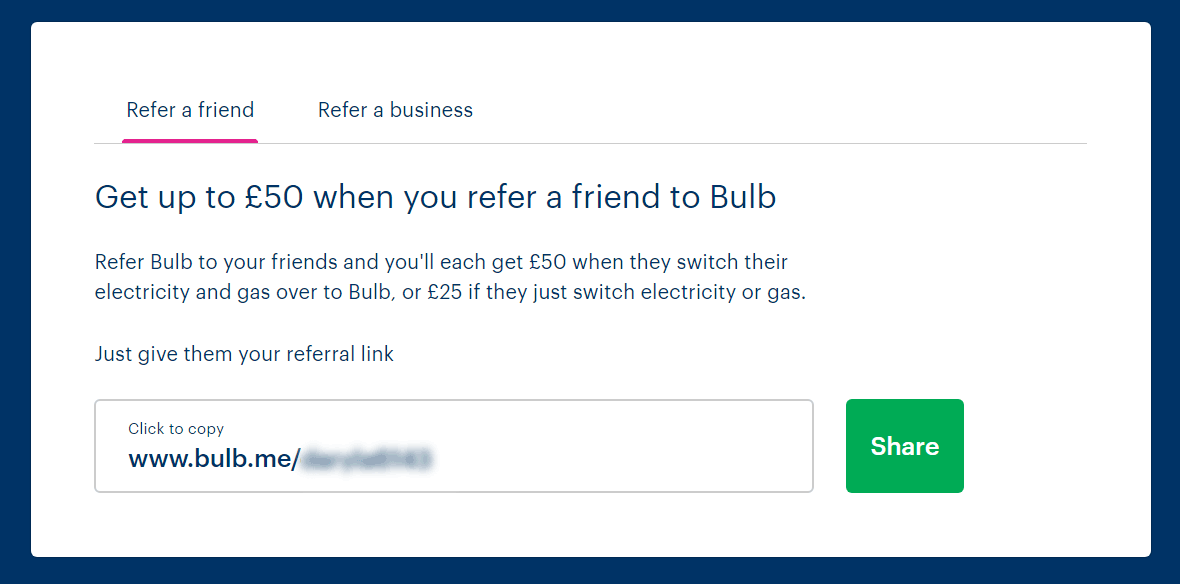 4. If someone uses your link to join Bulb energy, they'll notify you via email (subject "Winner! Your friend has signed up to Bulb through your link")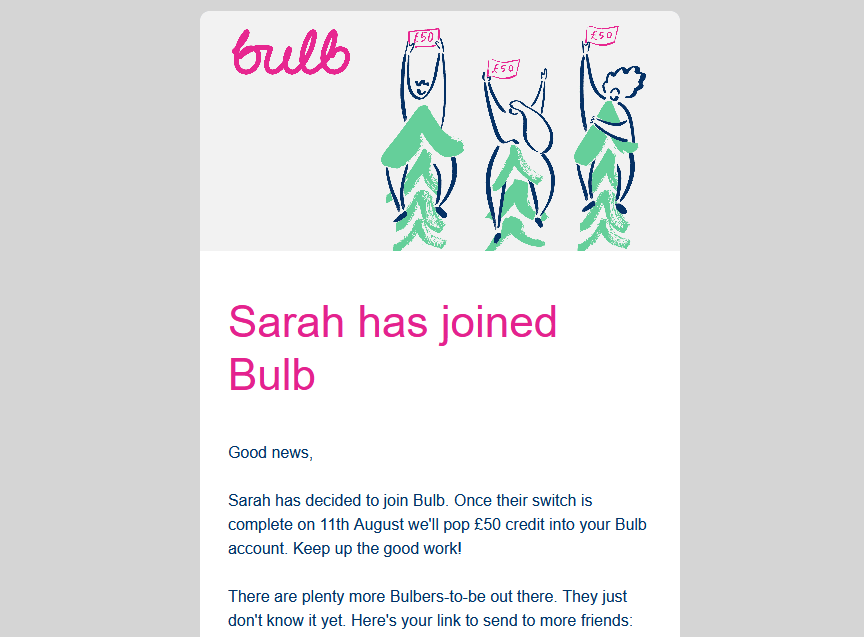 About Bulb Energy.
Bulb Energy was founded in April 2013 by Hayden Wood and Amit Gudka. Having both worked in the old energy industry, they were keen on driving change and supplying simpler, cheaper, and greener energy.
Today, Bulb Energy supplies homes and businesses with the best kind of energy, i.e.,100% renewable electricity and 100% carbon neutral gas. To offset the emissions from the gas that they supply, Bulb Energy works with carbon reduction projects globally. By simply switching to Bulb, you can reduce your carbon impact by 3.2 tonnes of CO2 a year.
In line with their mission of supplying simpler and more affordable energy, Bulb Energy offers 2 simple tariffs, Pay As You Go tariff and Pay Monthly tariff. This energy company offers great prices and does not charge exit fees or have fixed contracts.
Switching to Bulb energy is a very simple process that you can complete in a matter of minutes. Bulb Energy will then notify your current provider that you'd like to make a switch. If your old provider charges exit fees, Bulb will cover them for you.
With every new Bulb member, this energy company donates £2 to Bulb Foundation. These funds are used in combating the climate crisis. You can play your part in taking care of our planet by going green with Bulb Energy and referring friends to the service.
Bulb Energy FAQs.
How can I login to Bulb Energy?
To login to your Bulb account, you'll need to use the same email address that you used to join Bulb Energy.
At the top right of the website, click on the Sign in tab and enter your email address.
You can either sign in with a password, or select 'Email me a link to sign in instantly'. In the second case, Bulb will send you an email with a clickable button that signs you into your account.
If you have forgotten your password you can also choose to reset it.
How can I contact Bulb Energy customer services? Is there a phone number?
You can reach out to the Bulb Energy customer support via email at help@bulb.co.uk. You can also give the team a call on 0300 30 30 635.
Do Bulb Energy use smart meters?
Yes. Bulb Energy are currently installing second generation smart meters for their UK customers.
If you're currently not using Bulb, you can easily request for a smart meter installation once you make the switch. You can book your smart meter installations via your Bulb account.
If you're using a smart meter, you can make a switch to Bulb with your smart meter.
Who owns Bulb?
Bulb was founded by Hayden Wood and Amit Gudka. It's parent company is Simple Energy.
Does Bulb Energy have a mobile app?
Yes. you can download the Bulb Energy app from Google Play, or the App Store. With the mobile app, it's even more convenient and fast to manage your Bulb account.
How long does it take to switch to Bulb Energy?
Switching to Bulb Energy will take a total of 21 days. This 3-week duration includes a 2-week cooling period during which you can opt out of the Bulb Switch. Once your switch date is set, you cannot select another date.
You can keep an eye on the switch via your Bulb account.
Bulb Energy reviews.
Bulb Energy has accumulated over 73,000 reviews on Trustpilot, and an excellent 4.5-star rating. Bulb users love that this energy company supplies renewable and ethical energy at great prices.
Customers have also praised the user-friendliness of their website, the great communication from the team, and the excellent customer support.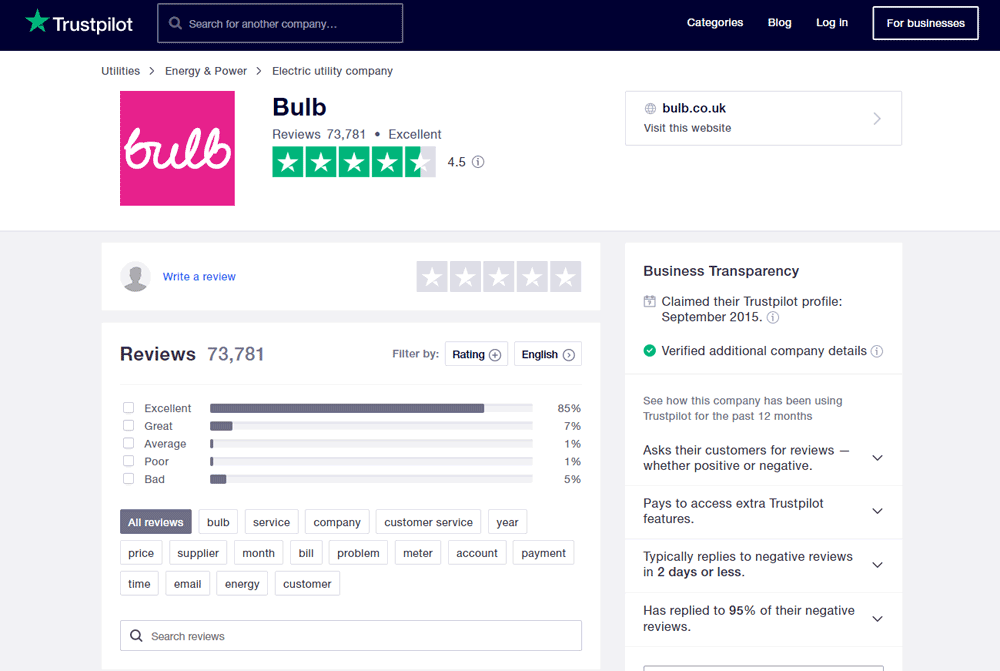 BULB ENERGY
£50 free credit + exit fees paid
100% renewable electricity & 100% carbon neutral gas