If you love Bloom & Wild flowers, you can now refer a friend and both of you will enjoy £10 each off your purchase. With our offer, you can shop for striking bouquets, letterbox flowers, plants and much more at a fraction of the price.
How to claim your free Bloom & Wild discount when you refer a friend.
With these simple steps, both you and your friend can take advantage of our refer a friend deal, and save on your next Bloom and Wild order.
1. Click on the Bloom & Wild refer a friend deal and proceed to their website.
2. Enter your email address into the box and click "Next"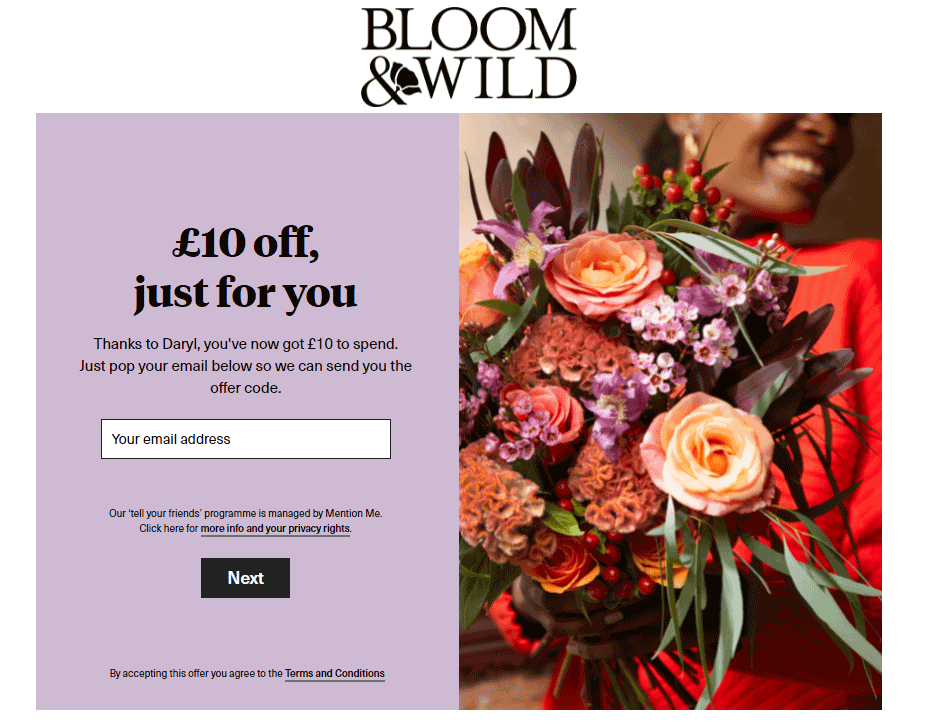 You will receive the following message, "Sorry, there's a little wait!". You will need to wait for the refer a friend provider "Mentionme" to deliver your unique discount code via email. If you can't wait for this email, Troopscout do have a 25% exclusive discount code with Bloom & Wild, so depending on your order value it could provide you with more than a £10 saving on your order value.


BLOOM AND WILD
Exclusive 25% off your first order
Bouquet & letterbox flower delivery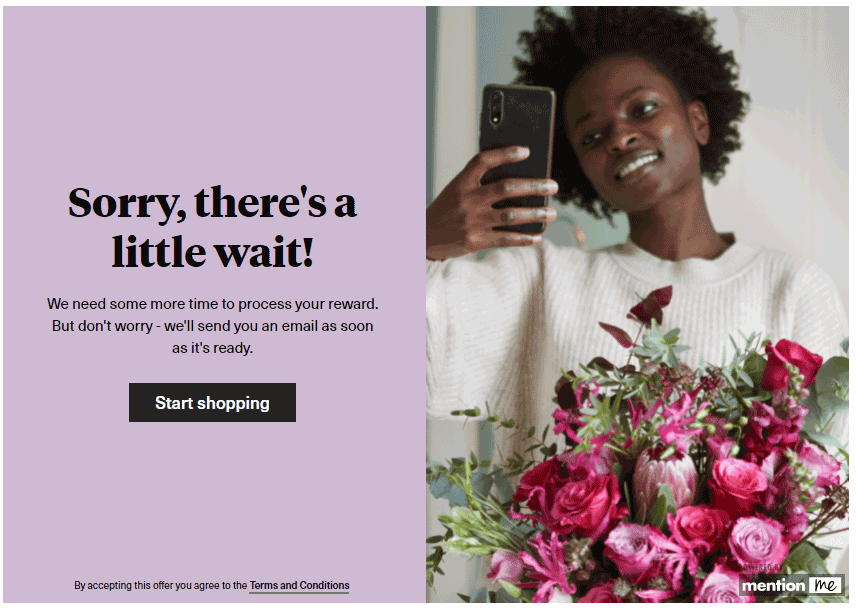 3. This will generate your personalised promo code, which you can then share with friends and loved ones.
4. To receive their £10 discount, your friend will need to click on "Been referred by a friend" at checkout, give your name as the promo code. This also earns you £10 referral credit that you can use at the online florist.
About Bloom & Wild.
Bloom and Wild was founded by Aron Gelbard and Ben Stanway in 2013, and their mission is to help you care wildly.
Bloom & Wild is the ultimate online destination for all your flower and houseplant needs. You can choose from a wide array of letterbox flowers, hand-tied bouquets, dried flowers, letter box plants, houseplants, and even flowers that are accompanied by meaningful gifts. Whether you're looking for Birthday flowers or Romantic flowers, Big gesture flowers or Just because flowers, Bloom & Wild has the perfect bouquet for your occasion.
If you're on a budget, you have the option of shopping for gorgeous blooms under £30. Bloom & Wild has also taken measures to reduce their impact on the planet and are keen on giving back.
Bloom & Wild Delivery.
If you make your Bloom & Wild order between Monday and Friday by 5:30 pm, you'll receive your package the next day free of charge. These deliveries are completed via Royal Mail.
You can also opt for premium delivery, which allows you to pick the day you'd like to receive your order and guarantees the delivery. Your purchase will be sent through DPD at a cost of £5 (Monday – Saturday) or £10 (Sunday delivery).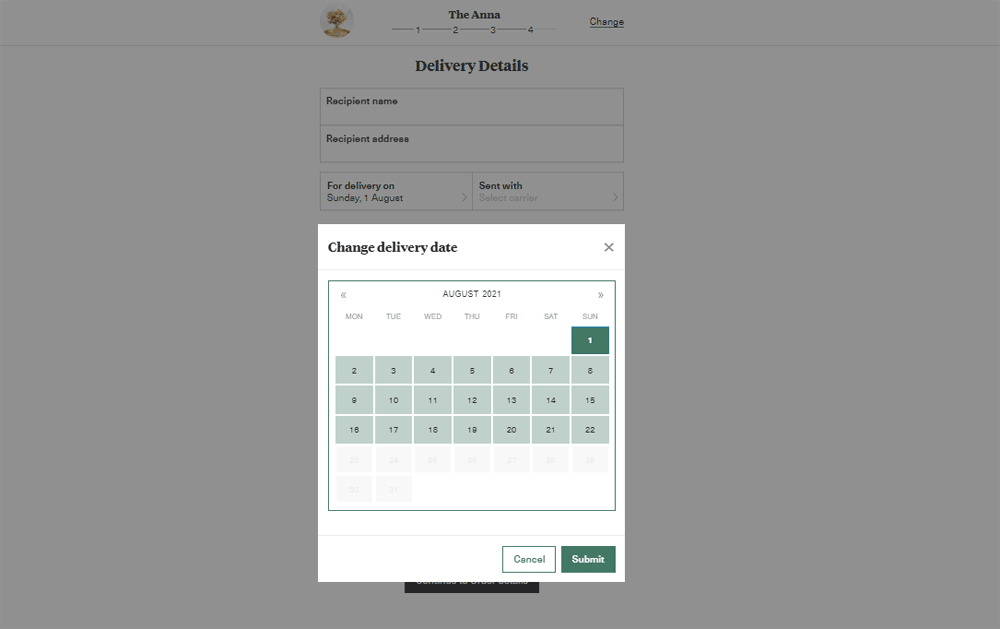 Bloom & Wild Refund Policy.
Bloom and Wild are dedicated to ensuring that their customers receive the highest quality of flowers on time. However, if your flowers aren't delivered, or you're unhappy with the condition of flowers delivered, you can contact the online florist for a full refund or a free replacement.
To be eligible for a refund, you'll need to email a picture of the damaged or unfresh flowers to the retailer within 72 hours of the delivery.
Bloom & Wild Returns Policy.
Flowers are highly perishable and as such, Bloom & Wild does not accept returns. However, they offer refunds and replacements if unsatisfactory flowers are delivered.
Bloom & Wild Refer a Friend Programme.
With the Bloom & Wild refer a friend programme, you earn £10 referral credit for every friend you refer to the service. Your friend will also get £10 that they can use to shop from the range of stunning flowers and houseplants.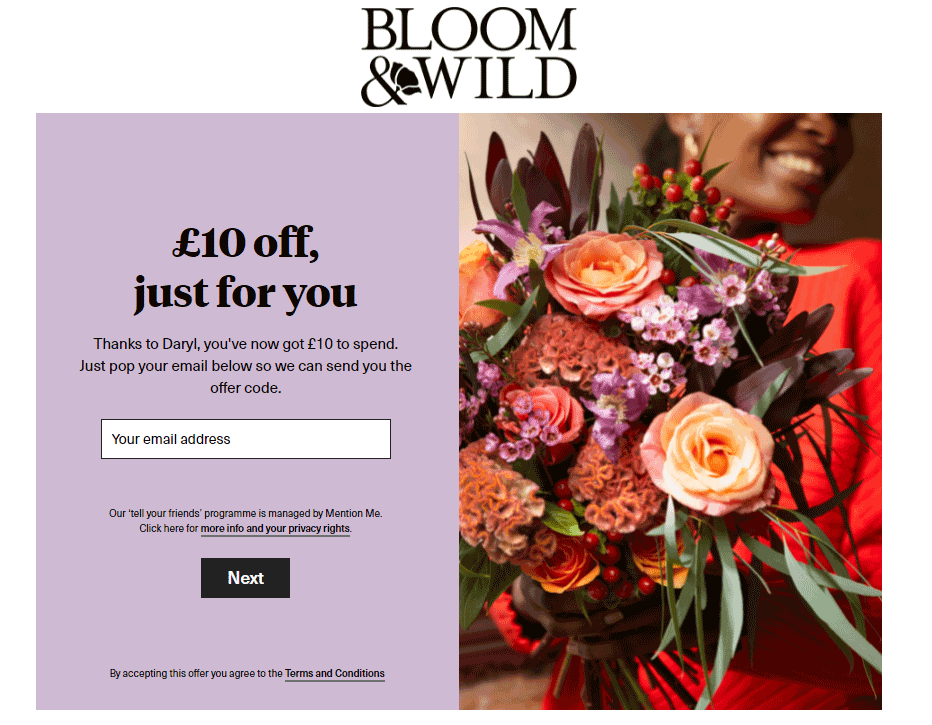 Bloom & Wild FAQs.
Do Bloom & Wild offer flowers by post?
Yes. Bloom and Wild have revolutionised the way people send and receive gorgeous flowers with their letterbox bouquets. The blooms are carefully packaged with protective flower nets and delivered for free via Royal Mail's Tracked service.
What are Bloom & Wild letterbox flowers?
Bloom & Wild letterbox flowers are packaged in boxes that can fit through the letterbox, and therefore, they can be delivered even when no one is home. The flowers are sent in bud, which allows you to watch them bloom, and enjoy them a little longer.
Do Bloom & Wild deliver Mother's Day flowers?
Yes. You can opt for letterbox flowers for mums who love getting creative and arranging their flowers. You can also choose to send them pre-arranged, hand-tied bouquets. Bloom & Wild also gives you the option to include special treats, like chocolates, to your Mother's Day gift.
Can I track my Bloom & Wild delivery?
Yes. Your beautiful blooms are sent via Royal Mail and DPD. Once you've completed your purchase, you'll receive a tracking number, so you can keep an eye on your package through the courier's website.
Bloom & Wild Reviews.
Bloom & Wild has impressed customers across the board. The online florist has over 31,000 reviews on TrustPilot and a 4.8-star rating. Users are impressed with the quality of the beautiful flowers, their timely deliveries, and the wide range of flowers offered. On REVIEWS.io, Bloom & Wild has over 59,000 reviews and a 4.9-star rating.