Looking for other similar discounts? Use our Illamasqua discount code to get 25% off your next order or save 20% with our ESPA discount code.
How to use your Ameliorate discount code
To get your Ameliorate discount code, click on the 'Get Code' button and copy your code from a pop-up window. Proceed to the Ameliorate website and start creating your order.
Once you find a product you'd want to buy, click on the 'Quick Buy' button below it or click on it, select quantity, and click on the 'Add to Bag' button next to it. Choose 'Continue Shopping' from a pop-up window to add more products or click on the 'View Basket' to review your order and proceed with your purchase.
Once you open your shopping basket, paste your Ameliorate discount code below your products, and click on the 'Add' button next to it.
Your discount will be applied immediately. Click on the 'Checkout Securely Now' button to place your order. Choose your checkout method and enter all of the required delivery information. Choose your delivery and payment methods, enter your payment details, and submit your order.
More skincare brands similar to Ameliorate
About Ameliorate
Ameliorate is an award-winning skincare brand that offers products for dry skin and scalp. All of the products are dermatologist approved and safe during pregnancy, as well as for children 3 years and above. However, since they contain milk protein, they aren't suitable for vegans.
Ameliorate UK delivery
If you choose Standard delivery, your order will arrive within 2-3 working days, free of charge. If your order is over £100, you can also choose a complimentary Next Day delivery. For orders under £100, it's £3.99. This delivery service is available 7 days a week. To be eligible for the Next Day delivery, your order must be placed before midnight. You can also choose the Next Day Evening delivery for £7.99, and your order will arrive between 6 and 10 pm. Same Day delivery (between 6 and 10 pm) is available for £9.99.  
Ameliorate international delivery
Ameliorate delivers its orders worldwide. International Tracked delivery is available for £4.95. It'll usually take 2-9 days for your order to arrive but the exact delivery time will depend on the location your ordering to.  
Ameliorate returns policy
If you'd want to return any of the items bought from Ameliorate, you should do it within 14 days. However, please note that every item you'd want to return must be in brand new condition, so inspect your order before using any of the items. Contact the Ameliorate customer service team to give you your returns authorisation number. Return the item in its original packaging and with all retail seals unbroken. Contact the Ameliorate customer service team to arrange your return if you didn't receive the item you ordered or if the item you received is damaged or faulty.
Deal Terms
See the deal provider's website for terms & conditions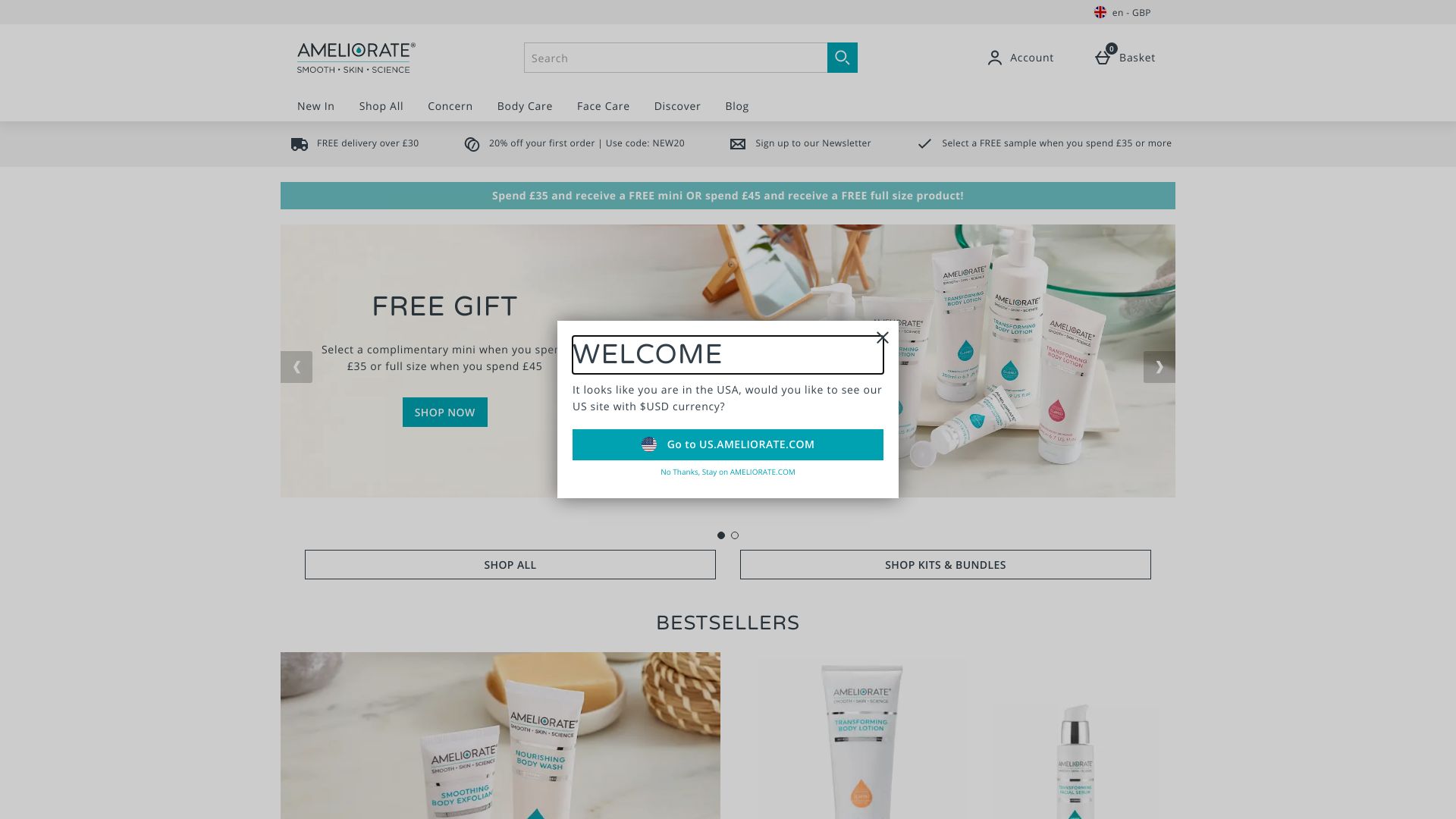 Similar deals to Ameliorate